TASMANIA, AUSTRALIA'S APPLE ISLE - Nov 2007
(Part 1)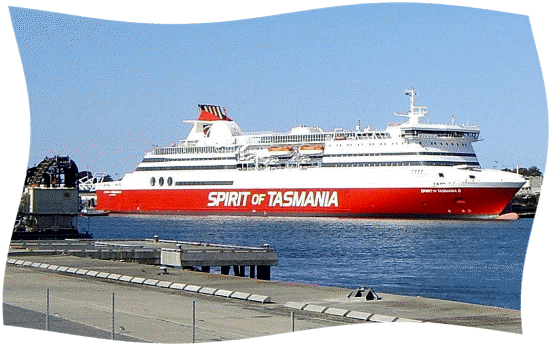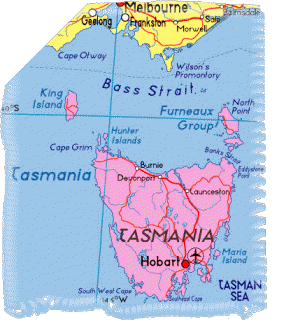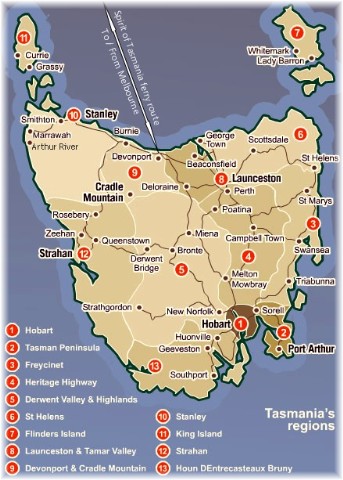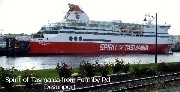 Tasmania is Australia's Apple Isle – our historic island state with rugged mountains, magnificent lakes, beaches, rivers, waterfalls and quaint townships with plenty of history, originally named Van Diemen's Land (1803 – 1856) by early Europeans. I've always wanted to visit this idyllic island so my M.O.T.H. (Man Of The House) decided to make my wish come true as his birthday gift to me this year. He made the necessary bookings for a return trip for us to take our motor-home (Just Trip'n) on the passenger and vehicular ferry, 'Spirit of Tasmania'. We had an early celebratory family lunch at Cho Gao, a Korean restaurant in Melbourne Central on Sunday (the day before our departure) before a bit of a flutter at the Casino afterwards to use up my $40 complimentary voucher. We didn't win so we came home early to finish some last minute packing, with mounting excitement at the thought of the adventure ahead.


Day 1 Nov 12: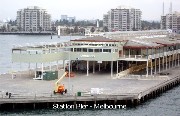 After completing various pre-travel chores and a quick bite of lunch at Macca's (McDonalds) we stocked up the freezer of "Just Trip'n" with various frozen meals that I had pre-cooked the week before. My MOTH, not wanting to spoil our holiday with me falling off the perch, made sure that I had enough supply of my prescribed medication as well as the travel-sickness pills that his sister had strongly recommended, in case we encountered rough weather during the 11-hour oceangoing ferry ride across Bass Strait. This was followed by a super-early dinner before we eagerly set off for Station Pier at Port Melbourne to board the Spirit of Tasmania, arriving there at 5.20pm.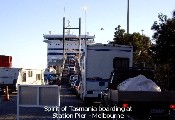 We joined in the loading queue with a gazillion fellow-travelers in various modes of transportation - campervans, caravans, farm trucks, mini buses, motor-homes, all makes and models of motor-cars and 4WDs, vintage cars, etc., and what seemed like at least half the members of Hell's Angels - from all corners of mainland Australia. Went through the routine security checks and then they tested our patience with the long, long wait before the loading process began. As we patiently waited, we scoffed down a bagful of home grown cherries.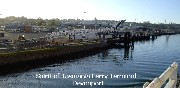 By 7.15pm, loading smoothly completed, we made our way to our allocated ocean view recliners on Deck 8 and to kill time before the scheduled 8pm departure, we went for a little walkabout on Deck 7, the main hive of activity on board. I bought a souvenir fridge magnet for my collection while my ever-practical MOTH bought a multi-entry pass for the National Parks. On the way back to Deck 8, we happened to stray into the Admiral's Gaming Lounge... Much to my surprise, my MOTH dipped his hand into his tight pocket, pulled out a $5 note, fed it into a poker machine and told me, "Go on! Then you can say that you've played the pokies on the 'Spirit'!" Before I could open my mouth to thank him, he barked, "That's it though, we're not staying here all night!" Needless to say, I quickly punched a few buttons and within minutes, we headed back to Deck 8 with a pocketful of $1 coins - 25 of them, to be exact. We both got our respective iPods happening and comfortably settled into our recliners listening to songs while feeding our faces with Zigzag Twisties™. It was a fairly smooth ride except for a slightly bumpy session in the middle of Bass Strait but certainly not enough to bring about a chundering performance from me. As luck would have it, my watch strap decided to literally have a break so I was watch-less for the rest of the ride.


Day 2 Nov 13: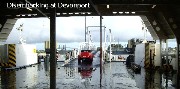 The "Spirit" docked at Devonport, a major regional centre in north-west Tasmania, situated at the mouth of the Mersey River, at the scheduled time of 7am and we went through another more rigorous security check at the quarantine station. There seemed to be at least half a million diligent quarantine officers and their highly trained dogs checking on all vehicles in compliance with the Tasmanian strict quarantine law against bringing flowers, fresh fruit and vegetables into the island.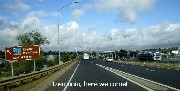 As soon as we were cleared through the quarantine station, my MOTH made a bee-line for the city centre as his main priority was to buy me a watch so I wouldn't keep looking at the invisible one on my wrist. We drove over Victoria Bridge to get to the CBD and very quickly located a car park, only to discover that we had to pay for the privilege of parking there - $1 for an hour. My $1 coins from the pokies win thus came in very handy. Not knowing our way about town, we stopped to ask a council worker for directions to the nearest K-Mart, to be told it was situated "a couple of blocks up the road - you can't miss it!" Off we set on foot and we walked and we walked and we walked… We finally got to the car-park but of course it was way too early for businesses to start the day's trading so instead of cooling our heels at the entrance of the shopping centre, we decided to walk back to Just Trip'n and bring her around to the free car-park at the shopping centre. As to be expected, no 'el cheapo' watch caught my eye so we temporarily gave up on the watch purchase and bought essential groceries from Woolworths instead.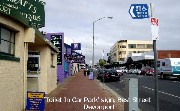 We then drove around looking for a shopping mall and spied one not far from the original council car park, so there goes another of my $1 coins… We walked for what felt like hours desperately looking for a jewellery store, without any success. Just as I became convinced that Tasmanians aren't into jewellery, we came across a jewellery store in the Rooke Street Mall where I found an affordable watch I liked and a rather relieved MOTH gladly paid for it. By this time, my MOTH was busting his guts to attend to his morning devotional so we did a quick lap of the Mall before spotting the "Toilet in Car Park" sign boldly displayed on the side of the road. What a relief that was!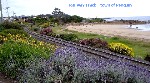 At last our exciting road trip was ready to commence.

Yay! We both agreed from the start to just drive along and make spontaneous stops wherever and whenever anything of interest catches our eyes. We left Devonport heading north-west following the scenic coastal route and made the first stop at the town of Penguin, (first settled in 1850 as a timber town and named for the Fairy Penguin rookeries common along the less populated parts of the coast) to admire the lovely flowers blooming in profusion in home gardens as well as all along the railway track. Just about everything in this seaside town had a penguin theme, right down to their rubbish bins.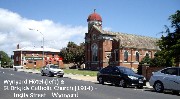 We had yummy beef pies and a can of Coke each before driving on to Burnie (a port city originally settled in 1827 as Emu Bay and renamed in early 1840s after William Burnie, a director of the Van Diemen's Land Company) to find a chemist for more 'flu medication for my poor sniffling and coughing MOTH but unwilling to pay any parking fees, we drove on to Wynyard. Wynyard, originally named Table Cape, is a rural town 16km (10miles) west of Burnie notable for the scenic attraction of Table Cape. Oh goody! We found a double car space just outside the chemist and it's free parking!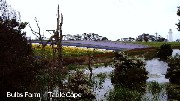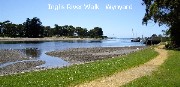 From Wynyard, "Where Green Meets Blue" (green landscape meets the blue ocean) we drove towards Smithton (an industrial centre for the surrounding district with a large timber mill and a potato processing plant) but made a little detour to see Table Cape Light Station established in 1888, Van Dieman's Bulb Farm and the Table Cape Geological Site. [Table Cape is a magnificent example of a weathered volcanic neck which was once a lava lake (hence its flatness) in a volcanic structure in a volcanic terrain.] It was a bit late in the season for the tulips to be in bloom but visitors were not terribly disappointed as it was the flowering season of Dutch iris (from late Sep till early Dec).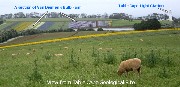 Row upon row of the pretty blooms danced gaily in the sea breeze, providing a delightful vision for all to behold.

After checking out the historic 25m (82ft) high light station at 190m (623ft) above sea level, we drove a bit further on to the Geological Site as we didn't feel like taking the walking track to get there. The picturesque scenery of well-fed sheep and gamboling lambs grazing contentedly in a paddock against a background of the vast fields of multi-coloured blooms and the light station with the blue, blue ocean to our right would have been worthy of a Wordsworth poem or a painting by Van Gogh. It would be difficult to find a more delightful view. Alas, being neither poets nor painters, we brought out our cameras instead.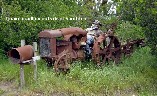 We eventually left the area and drove to the township of Smithton but there was nothing there that grabbed our attention and besides, there wasn't a caravan park in sight so we traveled on to Arthur River after making a phone call to confirm the availability of a powered site at the Arthur River Cabin Park. Both the river and the small township were named after Sir George Arthur, Governor of Van Diemen's Land (1825-1836). We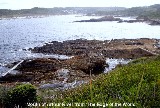 spent the night there and shared the park with a couple of other tourists, a Maltese couple traveling in a caravan that hailed from Melbourne and another couple also traveling in a caravan who have been on the road for the last 18 months. Seeing their spare wheel cover with "Di Di Mau" on it, my MOTH knew the bloke had to be a Vietnam Vet, so the two of them started chin-wagging about their time in 'Nam while I prepared our simple dinner for the night - a portion of my homemade spaghetti sauce tossed into a saucepan, followed by the contents of a can of Heinz spaghetti, heated up together and slopped onto hot buttered toasts and topped with grated cheese. No dessert tonight, just a few homemade macadamia nut cookies with our coffee. We also shared the $20 a night site with a whole mob of wallabies but by the time I thought of grabbing my camera half an hour later, it was too late as they had moved on. Tried to watch a movie on DVD but all we ended up seeing were the inside of our eyelids!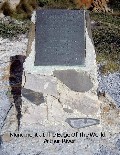 Day 3 Nov 14:


Left Arthur River at 9.15am, decided to forego the Arthur and Franklin Rivers cruise and headed to the Edge of the World landmark instead. After reading the touching poem on the monument, we each cast a pebble into the ocean, snapped a couple of photos, well ok, a dozen or so… and left the scene. The inscription on the monument:


THE EDGE OF THE WORLD
North West Coast Tasmania

I cast my pebble onto the shore of Eternity.
To be washed by the Ocean of Time.
It has shape, form and substance.
It is me.
One day I will be no more.
But my pebble will remain here.
On the Shore of Eternity.
Mute witness for the aeons.
That today I came and stood.
At the edge of the world.

Brian Inder

From Arthur River, we went to check out West Point but after only a kilometre up the track, a kind fellow tourist driving from where we were heading to, stopped us to advise that the track further on is pretty rugged - too rough even for his sedan to tackle. After thanking this kind soul profusely, we did a turnaround and set off to check out Woolnorth, only to find out an appointment for a tour of the wind farm has to be pre-arranged! "Stuff that idea!" we muttered as we left the area and went on to Stanley (the last major township on the north-west coast named after Lord Stanley, the British Secretary of State for the Colonies in the 1840s), for a shared lunch of a delicious cray roll, scallop pie and chicken curry pie from Hursey

Seafood Restaurant & Takeaway. After lunch, we decided to snap a few photos of our surrounds. The owner of the restaurant saw us taking a photo of

the "Big Cray" atop the building and told us about a nesting fairy penguin under some rocks in the front lawn of Stanley Village Boutique Motel and Restaurant on the waterfront just across the road. Off we trotted with our cameras and got a few photos of the wee penguin. From there we ventured up Circular Head, commonly known as 'The Nut' and geologically speaking, is the stump of an old volcano, with steep sides and a flat top, rising 143m (469ft), like a weird box above Sawyer Bay. Climbing 'The Nut' is a bit like climbing Uluru (Ayers Rock) and no easy feat as it is a steep and difficult walk that requires fitness and commitment.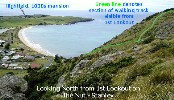 Anyway, we decided to make our way, very slowly, I might add, up the steep walking track to reach the top and were rewarded with magnificent views of the peninsula and its surrounds (including the gracious 1830s Highfield mansion built for Van Diemen's Land Company chief agent, Edward Curr, on the next headland), from the two strategically-erected lookout platforms. It wasn't easy trying to handle our respective cameras and take photos while tightly hanging on to the railing for fear of being blown away by the freezing cold gale force winds but somehow, we managed.

By the time we made our way back to level ground via the same steep track, my knees were trembling and wobbly but I felt triumphant at having made the climb. Not only did we get some much needed exercise but we also saved $20 (cost of chair-lift for 2 adults)! We spent the night at Stanley Cabin and Tourist Park ($22 per night) situated with The Nut on one side and the beach of the tranquil Sawyer Bay on the other. We had a very short leisurely stroll to the beach before a nice hot shower and dinner of boneless lamb roast with baked potatoes, carrots and gravy. Dessert was mulberry yoghurt, made by mixing home stewed mulberries in tub of plain natural yoghurt. Yum! Brief moment of panic when I started my laptop to jot down today's events as the battery of my laptop showed it wasn't charging. After several attempts at re-booting, it finally dawned on me that I hadn't plugged in the power cord. Doh!


Day 4 Nov 15:

We left Stanley at 9.30am and headed for Devonport, stopping at Sisters Beach for brunch of hastily assembled curried egg sandwiches before continuing on to Wynyard to get bread (free parking!).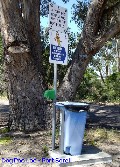 From there, we followed the coastal road back through Burnie and Devonport, continuing on to Port Sorell, a sleepy holiday retreat for boating and fishing enthusiasts, stopping at a roadside fruit barn for apples and garlic. We checked out Squeaking Point but there wasn't much there except for a little jetty and three blokes fishing.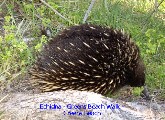 We travelled on through the Dazzler Range to Beaconsfield but didn't make a stop. It was onwards to Greens Beach for us to check in at the Greens Beach Caravan Park where we would be spending the night. After connecting Just Trip'n to the power supply, we went for a "short" 2-hour return walk along the coastal trail, where I caught sight of an echidna in the act of scrounging around for its dinner. Quick as a flash, I whipped out my camera and managed to capture a couple of shots before it beat a hasty retreat into the bush. As our walk progressed and as we reached each turn of the trail, all we saw were more blooming rocks so decided to call it a day. We would check out the West Head Lookout in the morning on our way out of town. Dinner tonight consisted of yummy South Australian gourmet beef sausages and fried onions on bread, followed by dessert of crisp Royal Gala apples before settling in with a movie on DVD.


Day 5 Nov 16: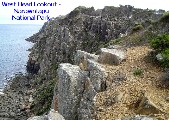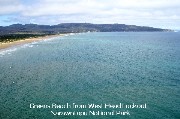 We left Greens Beach Caravan Park about 8.30am and drove through Narawntapu National Park to get to the West Head Lookout for a bit of a "look-see" and a hundred clicks of our cameras later, we drove on to view Garden Island just outside of Kelso. To our great disappointment, all we could see was a sewerage farm so we gave up in disgust. We then drove to Beaconsfield, near the Tamar River, north of Launceston, for a look around the gold mine that collapsed on April 25th 2006.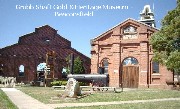 Beaconsfield was originally known as Cabbage Tree Hill and when gold-mining began in the 1870s, it became known as 'Brandy Creek' and later renamed in 1879 in honour of Benjamin Disraeli, Earl of Beaconsfield, the then Prime Minister of Great Britain. Afterwards, we had a leisurely walk around the historic park across the road to admire the beautiful roses in full bloom growing in

profusion there. We took our time wandering around breathing in the rose-scented air while we peered through the windows of the rebuilt/restored old miner's cottage, the Flowery Gully School (a one teacher school built in 1892) and an itty bitty general store

stocked with products of the period. To satisfy our rumblingtummies, we ended our walkabout and headed across the road to buy lunch of crumbed Blue Grenadier fillets and chips. As soon as they were devoured, my MOTH cranked up the engine of Just Trip'n and made our way to Beauty Point to check out Seahorse World. Just as my MOTH drew out his wallet for the $40 entry fee

for 2 adults, he read the sign that said, "Strictly no photography including digital and video cameras!" so back the money went into his wallet.

"Don't seem to be much point in forking out big bucks if we can't take any photos!" we voiced in unison. We marched back to Just Trip'n in disgust and drove back through Beaconsfield just so I could take a photo of the Exchange Hotel, the hub of activity during the miners' rescue mission in 2006.

That done, we continued on our way, going over the Batman Bridge to get to the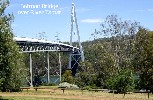 other side of the Tamar River so we could get to Georgetown, Australia's oldest town. We drove up the steep road on Mount George to the Lookout and the historic Semaphore Station. From the Lookout we could see for miles so we spent some time there pointing out to each other the various places that we've just visited. From Mount George we drove on to Low Head to check out the Low Head Lighthouse. This signal station was set up in 1805 and is Australia's oldest continuously used pilot station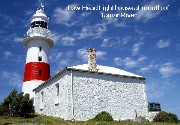 and the light-station established in 1833 was Australia's third and Tasmania's second.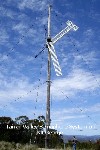 We ended the day's tour at Bridport Caravan Park with the intention of picking up the remaining first day's play of the 2nd cricket test match between Australia and Sri Lanka. As soon as we could, we wound up the TV antenna and watched the live telecast instead of listening to the live commentary on ABC radio as we had to while on the road. Tonight's dinner is Lamb Tomato Curry and Rice followed by coffee and cookies. Both of us were full to the gunnels so skipped dessert. We unwound with a TV movie, "Paycheck" before surrendering to sweet slumber to the sound of waves gently lapping the shore.



Day 6 Nov 17: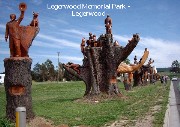 At 9.15 the next morning, we left Bridport, a popular holiday and commercial fishing location, to go to Scottsdale before continuing south to St Helens.

Scottsdale didn't merit a stop except for a very brief one at a roadside fruit vendor to purchase half a kilo each of apricots and nectarines. We continued on the Tasman Highway, merrily chomping on our late breakfast of the fresh stone fruit until a sign pointing to Ralphs Falls caught our eyes, whereupon, a quick turn of the steering wheel took us off the highway and into the Legerwood turn-off. Just as we entered the little township of Legerwood, a most unusual sight in the main street brought us to a screeching halt. We joined many other tourists to admire some pretty amazing wood sculptures done on nine old tree stumps in the Legerwood Memorial Park, in memory of the town's fallen war heroes.

Having taken a dozen or so photos of this rather unique local landmark, we jumped back into Just Trip'n and continued on our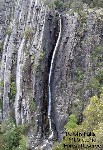 way to Ralphs Falls. This little adventure involved an 11km (7 miles) winding drive up Mount Victoria on a rather narrow and rugged gravel road with many a hair-raising turn, accompanied by some pretty colourful l

anguage intermittently making its way out from between the MOTH's grimly clenched teeth. It was such a relief when we finally reached our destination. We then took a 25-minute return walk to Norm's Lookout to view the falls. Ralphs Falls is the tallest single drop fall, plunging some 100m (328ft) off a cliff. The view of the green valley so far below brought home to us just how very high up we had driven. The walk down to the Lookout was pretty easy and took us about 10 mins but couldn't say the same about the return walk though - mostly uphill so it took us longer to get back to the car-park and by the time we reached there, I was a tad puffed.

Instead of going back the way we came, I convinced the MOTH to continue on the gravel road to the township of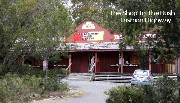 Pyengana which I secretly hoped would be a better option, thus saving us the harrowing drive back down the mountain. How glad I was that it was a good decision. We passed the historical "Pub in the Paddock" but unfortunately, did not stop to take a photo of it as we didn't realize its significance until it was too late to turn around and go back. Further along the Tasman Highway we stopped so I could take a photo of the "Shop In The Bush", a bric-a-brac shop specializing in books, antiques, china, crystal and jewellery, standing proudly on the side of the highway, in the middle of nowhere.

We continued on our journey to St Helens (the largest fishing port and town on the east coast, said to be the birthplace of screen legend Merle Oberon), where we

stopped to buy lunch at the Captain's Catch seafood café on the waterfront. Clutching our mouth-watering battered Gemfish and chips, we headed back to Just Trip'n to get out of the wind and enjoy our lunch but just as I got the door opened, a blooming seagull flew past and shat on my right arm! Oh well, maybe it was a good omen… We washed down our lunch with icy cold Coke before we sallied forth for the next township as neither of us was interested in what St Helens had to offer.

On the way to the next township of St Marys, the MOTH impulsively decided to check out Mount Elephant, specifically, Elephant Pass, so up the 8km (5 miles) winding road we went. Luckily, it was bitumen all the way. This cheered the MOTH somewhat and put him in a happier frame of mind. As we drove on further and further up Mount Elephant, we came across a road sign that advised "Large Vehicles Sound Your Horn" just before each bend in the road, so my MOTH happily complied despite my opinion that the signage are meant for big heavy trucks but upon seeing his gleeful boyish grin it was hard to stay serious. So on and on we continued to drive until we finally arrived at the Pancake Cottage situated about midway on Elephant Pass. We pulled into the car park of the somewhat ordinary-looking country cottage café, gave the posted menu outside a cursory glance and did a turnaround to get back on the Elephant Pass, back down the winding road to the Tasman Highway.

No more detours for the day as we drove past the tiny township of St Marys with its population of 549 (2001 census) and onwards to the seaside township of Bicheno where we will spend the night at the Seaview Holiday Park. Once settled, we were again able to follow the live telecast of day 2 of the Cricket test match. Dinner tonight was fried eggs on toast as we weren't terribly hungry after such a hearty lunch.


Day 7 Nov 18: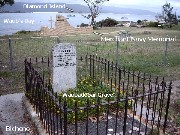 We drove out of the caravan park around 9-ish and went to check out places of interest in Bicheno, (primarily a fishing port, named after James Evernezer Bicheno, the British Colonial Secretary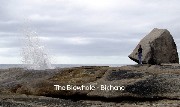 1843-1851) before our departure from this East Coast township. First, we checked out the diamond-shaped island just outside of town, funnily enough, named 'Diamond Island'. We then went to Waubedebar's Grave - Waubedebar was an aboriginal who was stolen from her tribe as a teenager to become a "sealer's woman". Her bravery in swimming out to rescue sealers caught in a storm is commemorated by a headstone. The Merchant Navy Memorial is situated in the same park overlooking Waub's Bay. From the park, we drove to the next place of interest, the Blow Hole.

What an impressive sight it was, of waves pounding into the rocks and gushing out of the blow hole in a huge spray… and it wasn't even high tide, thus revealing the kelp bed close to the shore. From there, we back-tracked to the Governor Island Marine Reserve and the channel of water between Governor Island and the mainland called The Gulch. There were at least a million water birds flying around cawing and squawking away to their hearts' content and loud enough to wake the dead!
Leaving Bicheno behind us, we traveled south to Coles Bay, a town on a beautiful bay of the same name on the Freycinet Peninsula, the entrance to Freycinet National Park.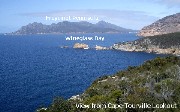 So up we went on yet another mountainous fairly winding road to the Cape Tourville Lookout to be awed by magnificent views of Carp Bay and Thouin Bay with numerous buoys marking what we assumed to be crayfish pots. A hundred or so of photos later, we drove back down to the township of Coles Bay and onwards to rejoin the Tasman Highway. On the way in, a roadside sign on Coles Bay Road advertising "Freycinet Marine Farm - Fresh Oysters and Mussels" caught our eyes so we decided to stop there on the way out. How pleased we were with this decision as we sat down to a scrumptious lunch of a dozen large freshly shucked Pacific oysters and a huge bowl of steamed mussels served with slices of lemon. Ah… this is the life!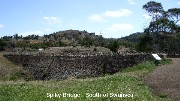 After lunch it was back onto the Tasman Highway heading south, driving through the township of Swansea and making a brief stop to check out Spiky Bridge, a convict bridge built in 1843, 7.5km (4.7 miles) south of Swansea, constructed from fieldstones laid without mortar or cement. This unusual bridge wasn't named after anyone of importance but rather because of the fieldstones laid vertically on the parapet like spikes, supposedly, to prevent cattle from falling over the sides.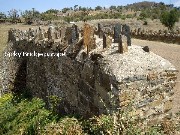 We reached historic Triabunna (an Aboriginal Tasmanian word for the endemic Tasmanian native hen), the largest township on the east coast, sheltered within Spring Bay at the mouth of MacCleans Creek and Vickerys Rivulet which started as a garrison town for the penal colony on Maria Island. We checked into the Triabunna Caravan Park just in time to catch the live telecast of Day 3 post afternoon tea play of the Cricket Test match.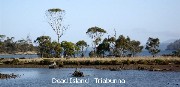 When the televised cricket match ended for the day, we grabbed the town walk visitor's guide that we had acquired earlier from the Visitor Information Centre and went for a stroll along the Esplanade with a view of Dead Island (Isle of the Dead) which was used as a burial ground for twenty years (1847-1867). Continuing on our walkabout, we checked out the historic Spring Bay Hotel which was built in 1861 and originally known as Pembroke Hotel. Next on the list was the Old Barracks & Stables, built by George Rudd in 1843 when the 51st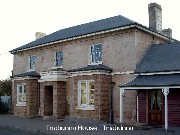 Regiment from Maria Island was stationed at Spring Bay. A few yards further on stood Triabunna House which was originally built as a hotel and became the Robertson's family residence in 1875. Later on, it operated as a boarding house (from 1906 to the 1930s) as Misses Robertson's Boarding House. The Colonial House, the present day Sufi's Craft Shop & Tea Rooms, was once the home of the McGrath Family built in the 1880s. When we got to a little takeaway shop across the road from Sufi's, we decided to have a takeaway dinner - hamburgers with the lot, minus bacon, of course. On the way back, we passed the Magistrate's Cottage, built in the 1840s and used until 1861.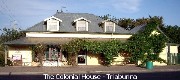 Enough exercise for one day, we decided, so back we went to the Caravan Park to wolf down our 'burgers, followed by a long hot shower before settling in for the night with the MOTH watching TV while I re-capped today's events on my laptop. On the stroke of midnight, my MOTH handed me a cute hand-made birthday card he had painstakingly drawn while I was busy with my daily report. All the walking we'd done meant we had no trouble going to sleep that night, heading off to slumber-land as soon as our heads touched our pillows. In the morning, we'll be continuing our southbound journey to Port Arthur on the Tasman Peninsula…




OzLadyM

Border: BoogieJack

Copyright © 2008 OzLadyM
Please do not use any material on this website without my permission. Thank you.