TASMANIA RE-VISITED Part 2- Nov 2009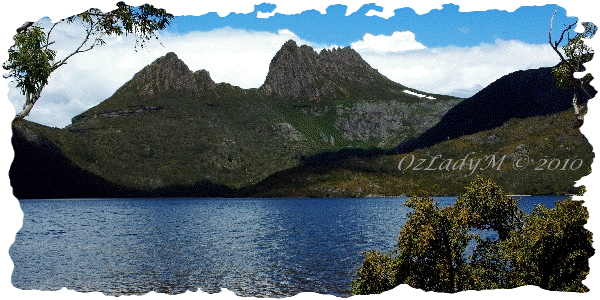 Day 9 Nov 7:



After a good night's sleep, we were ready for more adventure but before that, we need mo' money as one cannot live on love alone. We went to New Norfolk town centre to an ATM and then across the road to Chickenfeed, a discount variety store where I purchased a hair brush set for a princely sum of $2.99 - top quality, naturally. Having filled our respective wallet and purse with some moolah, we set off for the town of Maydena, driving past the Salmon Ponds again, then Mt Field National Park and onwards past the hops plantations with new hops seedlings just starting to climb up the wire trellis, cherry orchards with tantalizing ripening cherries, apricot orchards and a large raspberry plantation, unfortunately all displaying "Closed" signs…



On and on we travelled and as we approached the township of Tyenna, we started looking for the Marriot Falls

sign but despite both of us being on the look-out, we didn't see it. "Well, we'll just keep going then and check out Junee Cave instead," the MOTH declared. It wasn't long before we reached Maydena and saw a sign, "Junee Cave 4km" with the arrow pointing right. It was obvious to us that Junee Cave mustn't be a tourist Mecca as the dirt road we were travelling on showed little sign of being well maintained. The further we went, the worse the track became and if not for the fact that there was nowhere that the MOTH could turn Just Trip'n around, we would have called it quits. We finally reached the car-park and from there we followed the non-descript walking path for about 15 minutes before we were pleasantly surprised by the sound of running water and a river magically appeared! We didn't have to go much further before we got to Junee Cave, the source of the Junee River. A few photos later saw us heading back to the car park, stopping now and again to see little tiger trout swimming in the shallow river.

From Maydena, we decided to head for the east coast and despite craning our necks once again on the way past Tyenna,

we failed to see any sign for Marriot Falls.

We continued on to Dunalley stopping at the Fish Market for lunch of a seafood basket for 2 ($15). How terribly disappointing to find out that we will totally miss out on the crayfish season which will begin on Nov 15, the day we get back to Melbourne! Bummer!!! Not much we could do about it, we sighed, while enjoying our lunch in Just Trip'n and watching a couple of fishermen cleaning their catch of flatheads with the gulls hovering around for handouts. After lunch, we travelled on to Nubeena to pick up some groceries from the IGA supermarket there before making our way to White Beach Holiday Park. As soon as we had settled into our powered site ($26 a night), we did a load of washing (2x$2 coins for a load and $1 for 10mins use of the dryer). We took turns having our showers and it wasn't long before our washing was done. I went for a walk around the park with my trusty camera and managed to capture a few shots of the Green Rosella, native to Tasmania. We waited for sunset, hopeful of getting a few nice photos of it, before having our dinner of savoury mince on toast and then we thought of settling in for a relaxing night of TV viewing. Tomorrow, we will head north, through the centre of the island…


Day 10 Nov 8:




We had a lousy night sleep as soon after dinner, the MOTH began experiencing pain in the chest and complained of both arms aching. He totally disregarded my suggestion that I contact the Park manager for info regarding the nearest medical assistance if required and just kept going outside for some fresh air which seemed to help a little. He tried to get some sleep but the most 'comfortable' position for him was to stand upright. I was worried sick but tried my best not to show it as I massaged his neck, shoulders and back to afford some slight relief. It was midnight by the time he finally fell asleep while I lay awake praying and checking to make sure he was still breathing! What a relief when morning broke and he woke up feeling his normal self again… The MOTH spotted several galahs feeding on the lawn while on his way to the restrooms and when he noticed them still feeding on his way back, he told me to grab my camera for a few photos.




Having already checked out Port Arthur during our previous trip two years ago, we decided to scrub around doing another tour of it as the only activity we didn't participate in the last time was the Ghost Tour. Back then, I didn't feel like soiling my britches unnecessarily and my sentiments remained unchanged so we left White Beach to begin the drive to Launceston. We made a quick stop at a fruit and veggies market just off the main road near Sorell, where we bought half a kilo of shelled scallops, a couple of T-bone steaks (for tomorrow's dinner) and some nectarines. From there we travelled on to Ross, a historic town situated on the Macquarie River, noted for its convict history, historic bridge and original sandstone buildings [Not knowing its historic significance beforehand, we missed out on checking out the old bridge.]






Ross was named by Governor Lachlan Macquarie on an expedition in 1821, in honour of H.M. Buchanan Esqr's Seat on Loch Lomond in Scotland. The crossroads of Church and Bridge Streets in the middle of town is humorously referred to as the "Four Corners of Ross" ---





The Man O' Ross Hotel is "TEMPTATION".
Town Hall is "RECREATION".
The Roman Catholic Church of Our Lady of the Sacred Heart is "SALVATION".
The old Gaol (now a private residence) is "DAMNATION".



After a lunch of a curried scallop pie @ $6.95 each (nowhere near as good as the pies we had in Richmond)

and a fruity icy-pole apiece, we had a bit of a look around the town centre. We then hit the road again and headed for Launceston. Just as we reached Launceston, a call came through from Bill, one of the MOTH's mates, who had come down from northern Queensland for the H.O.G. rally. We stopped at Coles in Wellington St to stock up on a few grocery items before heading for the Treasure Island Caravan Park to spend the night there in one of their $29 powered sites. Within an hour of another quick phone call, Bill appeared on his 2008 Harley Davidson to say G'day. Tonight's dinner of scallops in oyster and chili garlic sauce with Asian veggies served on a bed of 2-minute noodles was quite delicious – it turned out a bit like scallop chow mein. Tomorrow, we'll take in Tasmania Zoo. Yay!


Day 11 Nov 9:




We left the Treasure Island Caravan Park at a bit after 9am, quite pleased with the news that our Aussie boys had won the 6th ODI cricket match against the Indians which meant that we won the series leading 4-2 with one final match to go. Following the route charted on the GPS, we travelled on and on and on until we reached Tasmania Zoo which is located in Riverside, out in the boondocks. We paid the entrance fee of $18 pp (no discount for senior card holders) and also lashed out and bought the layout map of the zoo.

The beautiful fish swimming in the numerous aquariums in the foyer of course called for the clicking of our cameras before we followed the keeper to watch the feeding of the blue penguins. Feeding time over, we wandered down to the island haven housing two wedge-tailed eagles living out their remaining years in retirement. The two wedge-tailed eagles were rescued from being euthanized by Dick Warren, the owner of Devil's Heaven Wildlife Park. They are permanently injured – one was shot and the other electrocuted by power lines…




Temperature rose quite rapidly and by the time we finished doing the round of the zoo's various enclosures to view the animals, we were rather hot and sweaty. Upon leaving the Zoo, the MOTH decided to take a different route to our next destination, the charming historic town of Deloraine, via the Meander Valley following the gravel road. I remarked that I vaguely remember there is a waterfall called Liffey Falls in the area. So… up and down and around and around over hills and vales we travelled on gravel road for some 30km until we got to within 2 km of the falls - a sign that states the road leading to the falls is only accessible to vehicles with short wheel base. What a bummer!!! No choice but to turn around and detoured to get on the A5 Lake Highway which took us to Deloraine.




Deloraine, situated on the Meander River, was first explored in 1823 by Captain Roland, searching for agricultural land and was named after Sir William Deloraine, a character in Sir Walter Scott's poem 'The Lay of the Last Minstrel' (1805). Sir Walter Scott's kinsman, Thomas Scott, first surveyed the district in 1824 and in 1825 the area became the first land in Van Diemen's Land where leases could be purchased. In the 1850s, the government sold the land outright for £1 an acre which resulted in a dramatic increase in population. The township flourished and in the early 1870s, the first rail link in Tasmania was established between Launceston and Deloraine, greatly reducing the poor transport problems. The town has been classified by the National Trust as a town of historical significance and is now a major agricultural centre. Historical buildings from the 1830s and 1840s are still in use today as private dwellings and commercial entities.



Upon reaching Deloraine, we located a chemist where the MOTH insisted on getting me some antihistamine before he became too accustomed to my perpetual sneezing caused by hay-fever. It wasn't long before the worms in our bellies demanded to be fed so we darted off to a takeaway joint to sink our teeth into a delicious sirloin steak sandwich each, complete with beetroot, onions and the works for $6 each. The MOTH even loosened his purse strings long enough to fish out $13 for a couple of mango smoothies. If we had lubricants for our creaking joints we would have liked to walk up to the summit of Quamby Bluff, about 20 minutes drive away but we opted to take a leisurely stroll around the town centre instead, before jumping back into Just Trip'n to get to Mole Creek where we got a powered site for $20 a night in the Mole Creek Caravan Park right beside the Sassafras Creek. The MOTH volunteered to cook tonight – he got the portable BBQ happening and it wasn't long before we sat down to a delicious meal of T-bone steaks with fried onions, grilled tomatoes and fresh mushroom gravy.


Day 12 Nov 10:




Bummer! We arose to a dull-looking day with an overcast sky so decided to run away to, hopefully, better weather down the road to check out Alum Cliffs. [This place is also called Tulampanga and was a place of social and spiritual significance to the Aborigines because of the presence of ochre which they used for ceremonial body marking, colouring wood craft products and various other uses.] We arrived at the car-park to find there wasn't a single soul in sight and no vehicle of any description parked there. Undeterred, we marched enthusiastically to the beginning of the walking track to read the info on the Alum Cliffs short walk - 800m to the lookout - fairly easy with a few steep sections. Some kind soul had the foresight to place several makeshift walking sticks near the info sign.

I was wise enough to grab a sturdy specimen and it proved to be a good move as I found myself resorting to using it to ease the stress on my knees. About a third of the way through our walk we came to a clearing with what looked like a bunch of old timber pieces somehow attached to form a strange semi-geometric shape. Reading the plaque nearby we learned that it is actually a sculpture by a David Jones called Soulevement - Triangular (Soulevement refers to the geological context, to lift upwards, the space between the 'form' and the earth and Triangulaire takes account of the journey to Alum Cliffs, the series of triangulated stone 'viewing platforms' at the cliff edge). We got to the forest lookout perched high above the Mersey River as it flows along the valley through the Alum Cliffs Gorge and left after a couple of photos each to drive on to our next destination – Gunns Plain.




There we were driving along until I impulsively got the MOTH to drive into the car-park of the Ashgrove Cheese factory in Elizabeth Town on the Bass Highway. What grabbed my attention were the colourful, bigger than life-sized statues of cows strategically placed in the huge paddock by the main highway. As we drove up the driveway, our eyes were met by more of these cow statues, each cleverly

painted to appear as if they were wearing football socks, boots, award ribbons and so... What a clever, eye-catching

form of advertising! More colourful cow statues decorated the place - even in the outdoor undercover eating area and along the front of the building. We had a jolly good time tasting various cheeses from mild to fancy wasabi cheddar before enjoying a latte each ($3 cup) and watched the cheese making in progress. We left the place with 3 blocks of Danish style Claus Havarti (mild, smooth and soft) as we both liked it the best and also a block of Double Brie - total cost $14.15. What a bargain!

From Ashgrove Cheese, we drove on to Gunns Plains Cave which was discovered in 1906 by a local man, Bill Woodhouse, while game hunting. (He followed a possum that eluded him down a hole which led into the cave.) Early tourists had to descend three storeys by rope through the original entrance until a series

of 54 steps were constructed from concrete, leading from the natural cave floor to the new entrance which was cut into the hillside and remains as the only public entrance and exit

to the cave which contains many beautiful natural cave formations. We went on the 1.30pm guided tour of the cave ($12 for me, $10 for the MOTH who once again flashed his Senior Card). The tour lasted an hour. We were a little disappointed at not getting very many photos of the cave formations as the lighting wasn't camera-friendly. Negotiating the steep and narrow staircase was a bit of a challenge and I protectively shielded my camera from getting damaged as it swung from side to side with every stair I tackled. I reckon whoever designed and constructed the stairway must be of a rather small stature. Along with the other 4 adults and 3 children tourists, we were reminded and advised on when to duck and bend really, really low by our friendly cave guide, Trish, as we maneuvered from one section of the cave to another. All in all, though, it was an enjoyable cave tour.




After the cave, we drove to Ulverstone, a coastal town at the mouth of the Leven River, to spend a night at the Ulverstone Apex Caravan Park at $24 a night for a powered site. The latte I had at the Cheese place must have given me some extra drive as I was still feeling energetic so I decided to clean the back window of Just Trip'n. I was sidetracked by the sight of a pair of plovers sitting in the middle of the lawn so I ventured over with my camera after I finished cleaning the window. Well! Neither of the plovers liked having me invading their space so they both began to dive-bomb me. That kind of put a damper on my camera-clicking idea so I beat a hasty retreat back to the safety of Just Trip'n. Tonight's dinner of Lamb curry on basmati rice was quite enjoyable before a late night snack of some yummy cheese on cracked pepper Savoy crackers. Tomorrow, we will go back to the Gunns Plain area to check out Wing's Wildlife Park.


Day 13 Nov 11: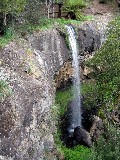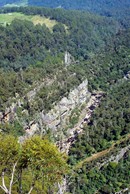 I helped the MOTH clean out our toilet cassette and also cleaned the inside toilet before we headed off to Wing's Wildlife Park. We drove into the car-park to see a huge busload of tourists and in one corner near the entrance, I noticed 3 Aborigine youths - one white, one caramel and one dark, busy applying their war-paint. Hmmm… rather 'touristy', I thought and definitely not my choice of a place to visit so I told the MOTH to give the place a miss. A quick U-turn in the car-park and we were off to check out Preston Falls not too far from Wing's. We pulled up at the car-park just in time to see 3 middle aged ladies getting out of a taxi and together with the taxi driver, they set off on the walking track leading to the falls. It was a short easy walk and we met them halfway when they were on their way back. A couple of photos snapped and we were good to go on to the next destination - Leven Canyon. Not feeling that energetic, we opted for the short 20 minutes return walk to Cruickshanks Lookout instead of the longer, more challenging Fern Walk. A few minutes into our walk and who should be heading back on the walking track but the 3 ladies and their cab driver! We stopped to exchange pleasantries and managed to convince them that we were not stalking them…




We reached the Lookout to be awed by the majesty of the canyon. Leven Canyon is a dramatic canyon with the Leven River twisting and roaring through limestone cliffs almost 1,000 feet below the Cruickshanks Lookout. The Lookout was named in honour of George Roland Cruickshank (1904-1968), whose vision started the Reserve more than 40 years ago. Walking out to the Lookout platform that over-hangs a cliff sent a shiver up my spine - it was worse for my MOTH who is afraid of heights, even though he used to fly around in airplanes! Nevertheless, we steeled ourselves and managed to walk out to the end of the platform to snap a few photos before hastily stepping off the metal mesh to get back on terra firma for a more leisurely stroll on the 570 metres track back to the car-park. We noticed there are 3 bench seats situated at the quarter way, half-way and three quarter way of the walking track with these etched messages -



"HAVE A SPELL <-- 436m 134m -->",
"HALF WAY SEAT <-- 242m 328m -->" and closer to the Lookout was the last bench seat with
"NEARLY THERE <-- 136m 434m -->"

[<-- = to the Lookout; --> = to start of walking track].




We decided we would track down another waterfall, Guide Falls, near the township of Ridgley but first, we would stop to get more biscuits to go with our havarti cheese for tonight's late night snack. Of course we couldn't go into the mini-mart and just buy a packet of biscuits so we did a quick scan of the premises until our eyes caught sight of the ice-cream freezer. We selected a frosty treat each, grabbed a copy of the daily newspaper and had a bit of a yarn with the friendly proprietor before continuing on our way to get to Guide Falls, Ridgley's premier attraction. The waterfall is about 187m above sea level and is about 35m high.




We reached the upper level car-park at Guide Falls and an easy few minutes' walk later saw us gleefully clicking our cameras at the top cascades before we ventured down a few flight of stairs to get to the second level cascade. It was breathtakingly beautiful and worth every step of the way. From Guide Falls, we thought it would be a good idea to check out the numerous falls in the region, so off we went. Unfortunately, after travelling a further 35km and failing to locate Sanderson Falls and St Georges Falls, the MOTH gave up on them so we turned around and headed back towards Ulverstone where we planned to spend another night. On the way back, I remembered passing a sign that advertised the Emu Valley Rhododendron Garden on our way out earlier on, so I persuaded the MOTH to turn into it for a bit of a look-see.



For being so obliging, I treated my MOTH with afternoon Devonshire tea at the visitors kiosk café which, in our case, consisted of 2 piping hot cups of latte accompanied by 2 platefuls of freshly baked scones served with lashings of homemade raspberry jam and whipped cream. Reasonably priced too at $5 per person... The scones were polished off very quickly, giving the fresh whipped cream very little chance to go off. A $6 entry fee per adult allowed us to tour the garden at our leisure so afterwards, armed with our cameras, we wandered around opting for the short walk as it was getting a bit late for a full walk around.




This beautifully landscaped award-winning garden near the town of Burnie covers a 13 hectare site sloping towards the Emu River with over 20,000 established plants, including many wild species of rhododendrons from various parts of the world specially planted to reflect their geographical origins. There are three small lakes (Lake Pearl, 'Sea of Japan' and Lake Grebe) formed by several natural springs feeding the large stepped basin in the sloping terrain. What a pity our visit was just a little late to fully appreciate the vibrant colours and fragrance of the rhododendrons at their flowering best in October. It was still colourful enough with the late-flowering species though... We left the garden about half an hour later and drove back to Ulverstone without any more detours. For dinner, I whipped up a quick crab foo-yong which we enjoyed on toast. Tomorrow we will head off for Cradle Mountain.


Day 14 Nov 12:




On the way to Cradle Mountain, we passed the township of North Motton where an unusual "garden" caught our eyes - the whole front yard of a house named "Dunny-Doo" was "decorated" with old toilet cisterns! We made a quick stop at Wilmot, a tiny township with one claim to fame - the original G.W. Coles store established in 1912 which subsequently became an important retailing chain throughout Australia. After snapping a couple of photos of the store, we continued on our way and arrived at the Cradle Mt car-park just before 11am.




We were quite excited about doing the short walk Dove Lake Circuit rated as "Easy - one graded uphill section". It is a 6 km walk that supposedly takes up to 2 hours to go right around Dove Lake. Armed with our four cameras, two bottles of Coke, two jackets, and wearing a jumper over our summer tops, we went into the Transit Terminal where we were issued with tickets for the shuttle bus service when the MOTH showed our Tasmania Parks & Wildlife Pass. (Without the pass, it would cost $16.50 per adult.) We jumped into the next shuttle bus and went all the way to Dove Lake to start our "short easy walk" around the lake. Easy-peasy, we thought as we jauntily set off. Spotting a makeshift walking stick at the start of the walking track, I decided to grab one for myself. A few minutes into our walk took us to Glacier Rock which we climbed to snap some photos of Cradle Mountain. We continued on, stopping every so often to get more photos of Cradle Mountain from different vantage points… About a third of the way into our walk, the MOTH suddenly stopped dead in his tracks and took a backwards jump with his hand held out to stop me from going any further. "Shit! it's a tiger snake!" he yelled. I was struck with fear and it was a wonder I didn't poop in my pants. What a pity I didn't have my wits about me to snap a photo of the snake before it slithered away. My MOTH then began warning other tourists coming in the opposite direction about the snake. From then on, I rattled my walking stick along the boardwalk to scare off any other snakes that could be lurking around the place.




Fortunately, the rest of the walk was uneventful but I would like to meet the person who rated the walk as "Short" and "Easy". I'll bet you he or she is a physical trainer as we certainly would not rate it as such and many others agreed with us. Two hours, it said on the info board. It took us 3½ hours to complete the walk! Maybe if I am still a smoker, I would think differently as I could have had a packet of smokes during the walk. I realised how unfit I really am - my knees were hurting even though I was wearing knee supports and was I glad I grabbed that walking stick! I had to have many, many stops as my heart rate soared and I became breathless. What a welcome sight it was when we came around the final corner and saw the car-park up ahead…




We caught the next shuttle bus back to the Cradle Mountain Visitor Centre where we went for a quick jog (NOT!) around the 500 metres Pencil Pines Falls & Rainforest Walk to view Pencil Pine Falls before ducking across the road to view Pencil Pine Cascades. We then caught the next shuttle bus (runs every 15-20mins between 10am - 5pm and after that every hour till 7pm.) back to the Transit Terminal where we slowly made our way back to Just Trip'n. I kicked off my shoes, took off my knee supports and changed into a pair of shorts while the MOTH made a phone call to book us a powered site at Mole Creek Caravan Park for the night. The MOTH was chatting with another of the Caravan Park user and it turned out that he and his son were also at Cradle Mountain at the same time as us and they too saw a tiger snake during the walk around Dove Lake. They also heartily agreed that it was not such an easy walk at all. A hot relaxing shower later and we felt almost human again. Another serve of braised lamb in soy sauce over basmati rice would be our dinner. Tomorrow we will find out a bit more about the Great Cathedral Cavern...


Day 15 Nov 13:




Both of us woke up this morning feeling suitably refreshed after an early night to rest our weary bones. We got to the Mole Creek Caves ticket office a wee bit early and started chatting with the park ranger there who filled us in on the difficulty level of Cathedral Cave. When we told her that we tackled the Dove Lake walk yesterday, she quickly assured us that if we did that ok, we should have no problem tackling Cathedral Cave with its 250+ stairs. The first Cathedral Cave tour for the day is at 11am so to fill in some time we went for a 40mins return walk through the Fern Glade with the high possibility of see plenty of birdlife - yea, right! We could hear them alright but not a single bird could be sighted. Oh well, it was a pleasant walk anyway. By the time we got back to the ticket office and purchased our tickets ($16 for me and $12 for Senior MOTH), had a drink, changed our camera lenses and donned our jackets in preparation for the cool temperature of the cave (9C), it was time to drive up to the cave car-park and walk the 120 metres to the meeting place near the cave entrance.




After a bit of a chat with our group of cave visitors regarding the dos and don'ts once we got into the cave, our cave guide, Brian, opened the gate and the entrance door to the cave. For the first section, we were not permitted to use our cameras, which was a bit of a bummer as we couldn't capture images of the massive and stunning flowstone formations there. Once we were given the okay to use our cameras, one could be forgiven for mistakenly thinking that we were paparazzi who had just caught sight of Brad Pitt kissing his ex-missus in the shadows of the cave! There were camera flashes from all the visitors - all eleven of us began clicking our cameras as we gazed in wonder at some pretty awesome formations - from straw stalactites on the cave ceiling to shawls on the cave walls and flowstones and stalagmites on the cave floor. The highlight of the tour was towards the end when we returned to the section of the cave near the underground river close to the entrance/exit of the cave. We were told once again to turn off our cameras and when the dim cave lights were also switched off, we all stood in the pitch-black darkness, too afraid to move in case we trip and fall. We were then asked to lift our heads and look at the ceiling. An awed chorus of "Awwwww..." echoed throughout the cavern as we gazed on what looked like a moonless night sky, with hundreds of tiny stars the only source of light. The tiny "stars" are of course the glow worms, the larvae of large mosquito-like flies. All too soon, the dim lights in the cave were switched back on so we could see our way out of the cave... The 50 minutes tour was over.




Once again bathed in sunshine and after answering the call of nature, we jumped into Just Trip'n and it was onwards to Deloraine... and lunch! On the way to Deloraine, we spotted a sign, "Lobster Falls" so the MOTH did a U-turn and parked Just Trip'n by the roadside while we went for a walk to check it out. Apart from stating, "No cars past this point", there was little else info but we thought we'd just go for a short walk and hopefully see more signage along the track. Well, on and on and on we walked for a good 15 minutes before deciding that maybe it wasn't such a good idea after all and we could be wasting a lot of time and energy for nothing. There was no more signage and no sound of running water although we were fooled a couple of times mistaking the sound of the wind through the trees as being that of running water. The MOTH decided to call his mate, Bill, the Harley Davidson fanatic who grew up in the area, for any possible info he could share with us. Unfortunately, there was no reply. Not long after we got back into Just Trip'n to drive on to Deloraine, Bill returned our call and told us that Lobster Falls was about an hour's walk each way! Whew! Lucky we gave up when we did...




When we reached Deloraine, we headed straight for the same takeaway shop for another mouth-watering lunch of delicious steak & salad sandwich, a small serve of crinkle-cut chips ($2) and yes, a mango smoothie each for 'dessert'. Afterwards, we strolled along the river bank and over the footbridge to get some nice photos of the Meander River, the Weir, the old mill, and the old bridge before making our way back past the Baptist Tabernacle and the Apex Train Park. Conscious of our light pockets, we then wandered over to the ATM for a re-fill before a leisurely stroll through the Memorial Park to get back to Just Trip'n. We decided to call it a day and began the drive back to Ulverstone to spend our final night in Tasmania. Tonight's dinner will be Beef Rendang on basmati rice.


Day 16 Nov 14:




We left Ulverstone and drove straight to Devonport – parked at the same car-park that we used on our last trip two years ago. We then hoofed it to the Devonport Showground to check out the Farmers' Market (held every second Saturday of the month). After the 'cut lunch and boomerang' walk to get there, we were somewhat disappointed to see merely a few stalls set up for business – a few dealt with farm produce, a couple were selling country craft and knick-knacks, a couple of honey stands and a cake stall or two. We were both feeling a bit peckish but didn't particularly feel like hamburgers or sausage rolls so after one lap of the place, we left and headed back to the town centre to Maccas for breakfast of hotcakes and coffee.




From there, we went for a long, leisurely stroll along the Esplanade to take a few photos of the Spirit docked on the other side of the Mersey River being prepared for our departure that evening. We then walked up and down Rooke St Mall and went into a few stores for a cursory glance at the goods on offer. Our only purchase was The 12th Man Box Set of 7 CDs from Sanity. By this time, our bellies told us it was time for a re-fuel so we decided on a $45 lunch of Grilled Pink Ling fillets with gourmet salad and chips at Sharkies Seafood Restaurant with their rather cute napkin holder in the shape of prawns. Bit pricey for fish and chips, I thought but they did give us an after dinner chocolate each before we left. We sauntered back to Just Trip'n and rested for a while before a bit of a freshening-up session and a change of clothes before we headed off over the bridge and onward to join the queue to board the Spirit of Tasmania. Our mate, Bill, who was also getting on the Spirit to get home to Queensland saw us in the vehicular queue and came over to say G'day.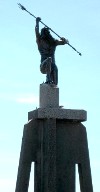 As it was a full load, it took a while for all the various vehicles to be loaded but finally, it was all done and we made our way up to Deck 7 where I headed for the Star Gaming Room while the MOTH met up with Bill and the blokes spent the best part of the evening drinking beer and telling lies while I tried to bait more gold coins to come out of the poker machines. After four long hours of hard work, I managed to get a machine to cough up $22. Not exactly a cork-popping champagne win but a win nonetheless. I hung around in the gaming room because I felt a bit nervous about making my way to the bar where Bill and my MOTH were seated as the Spirit was sailing through a pretty rough patch of water. I didn't want to make a fool of myself by swaying like a drunken sailor. It was just as well I decided against having dinner or I could have easily done a chunder DownUnder on the Spirit's carpet!

Bill decided to call it a night just before 11pm, after which, my MOTH came looking for me and we both went up to Deck 8 to get to our ocean view recliners. We couldn't find our seats in the semi-darkness so the MOTH went looking for assistance from the security bloke. What a lousy arrangement – we had to wake up the young dude who was fully stretched out in his recliner so we could squeeze our way into ours by contorting our bodies between the dude's recliner and the three recliners in front of his and ours. Never again! Should we decide to visit Tasmania again, it will definitely be cabin accommodation both ways. If the cabins happen to be all booked out like they were on this return trip, we will postpone our travel just so we can sleep in comfort.


Day 17 Nov 15



The Spirit docked at Station Pier just in time for us to see several sunrise balloon riders taking in views of Melbourne from the air. We drove out of the Spirit of Tasmania and arrived home a few minutes after 7am. After unloading Just Trip'n, it was taken back to the warehouse to hibernate until our next road trip. A half-hearted attempt at unpacking and two loads of washing later, the MOTH and I opted for a little shut eye. We're not as young as we used to be, after all… The amount of walking when compared to our last trip is open to debate but one thing is for sure – I felt a lot better on the previous trip when I was able to light up a cigarette during pit stops! All in all, this has been another happy holiday for us and we got to visit all the caves we wanted. Alas, the same cannot be said of the waterfalls as we missed out on visiting those only accessible by 4WDs or involving way too many hours of cross-country trekking. Should we decide on another trip, we will make sure that it is a summer holiday so we can pig out on lobsters and stone-fruit.




OzLadyM

Border: BoogieJack

Copyright © 2010 OzLadyM
Please do not use any material on this website without my permission. Thank you.