SINGAPORE - 2001 (Part 2)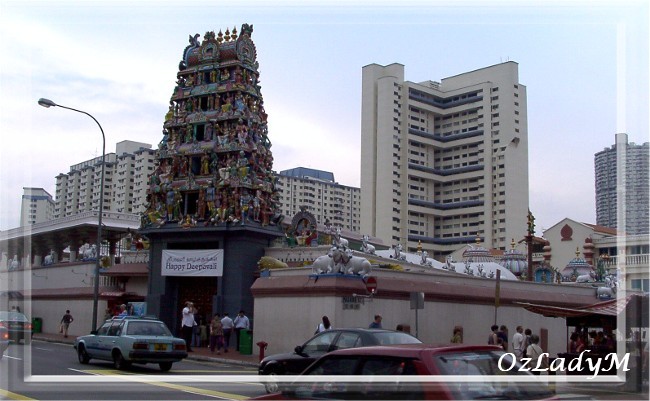 THU NOV 15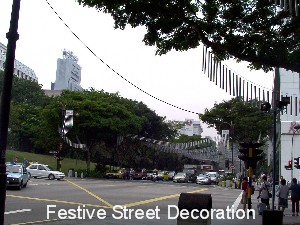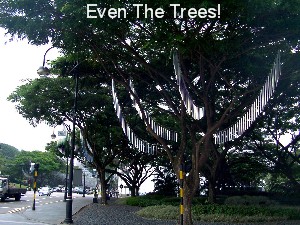 I woke up this morning with itchy feet, so I decided to confidently go to the city all on my lonesome yet again. After checking out several shopping plazas, a hearty lunch of local fare and asking for directions from several total strangers, I finally ended up in Sim Lim Square (Electronic and Computer Centre) to purchase a special gift for my very special niece. I patiently queued for a taxi as the package was way too big for me to attempt catching public transport back to my brother's home. My niece was of course most appreciative of my gift and after the required assembly we went to a Thai restaurant for an excellent dinner.

FRI NOV 16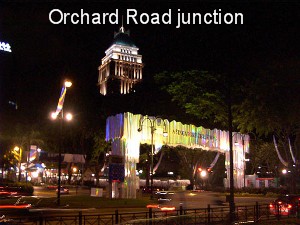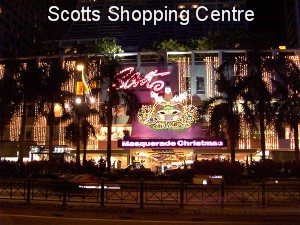 I indulged in a hair color treatment in a salon nearby. My hair now looks like the million bucks that I don't have. Such a pity they couldn't do anything about the rest of my body, though. Battery in the mobile phone on loan went flat so had it recharged at the salon while I was getting pampered there. While waiting for the phone to continue charging for a little longer, I walked around the shops and ended up buying a couple of watches, er.. well, okay, three watches... as I couldn't decide which one I liked best. Yea, yea, I know I promised to watch my spending but hey, we only live once!



Headed into town afterwards to keep the date with my niece after she finished work for the day and while on the MRT train, had a phone call from "my favorite jeweller"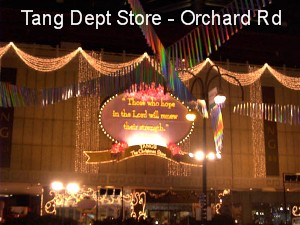 to come in and pick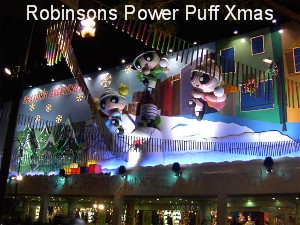 my ring up. Ended up sitting in the jeweller store, drinking wine, eating snacks, making new friends with a couple of fellow customers and exchanging email addys. My niece eventually tracked me down and we headed off shortly afterwards to enjoy some Japanese food at a Sushi Bar in the heart of Orchard Road. After the meal we sauntered up and down Orchard Road to admire the Christmas decorations. Got back here at 11pm, tired but happy. Another full day on the agenda tomorrow as my niece has the day off work so we are going to see what mischief we can get into in the few days that I have remaining here in Singapore.

SAT NOV 17

In between eating episodes, my sweet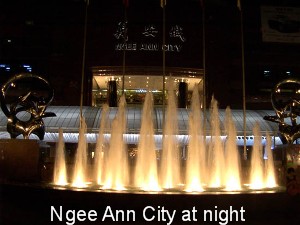 niece and I went to check out several shopping centres today so naturally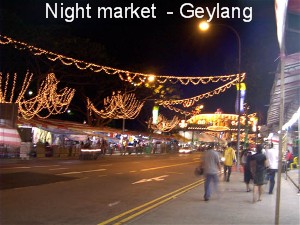 we had to catch a cab home. Strangely enough, my bumbling ways have not gone unnoticed and, afraid that I would lose my way around at the night market, my niece accompanied me there tonight after a delicious Indonesian dinner home-cooked by my nephew's bride. Going to the night market at Geylang sure brought back childhood memories as the night market is situated close to the primary school I attended some twenty years ago. Ok, ok, how about thiry years ago? Forty?

Actually, it's been so long that there was not a single landmark that I recognised! Why, back in those days, I was allowed to walk to school unaccompanied as it was such a quiet area with very light traffic. Wistfully, I thought if only I could step back in time and had a camera, I would be able to capture the Singapore that I grew up in. But alas... I was brought back to the present by my niece's voice telling me about all the changes that had taken place since SHE was a little girl!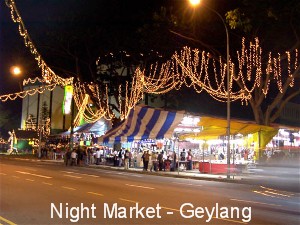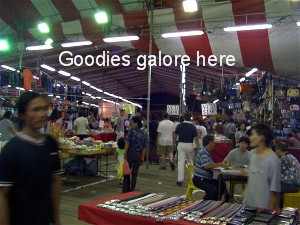 Sad to say, the fresh food market of my childhood days is no more, having been replaced by open-air market stalls selling everything from abacus to zippers. Naturally, where there are Asians, there's food - plenty of food! So with eyes much bigger than belly, I proceeded to indulge in a little bit of this and a little bit of that

(bearing in mind that I had only recently had dinner). I ended up feeling so bloated my gait deteriorated from walking tall to waddling like a duck! When I got to the "I couldn't possibly fit another thing in" stage, I solved the problem by buying some for "Ron" (later on) and not long after we got back, I was doing more heavy-duty eating! Yea, yea, I know, over-indulgence is a bad thing but I just must sample as much of the local fare that I grew up on in the short time that I have left in Singapore.

SUN NOV 18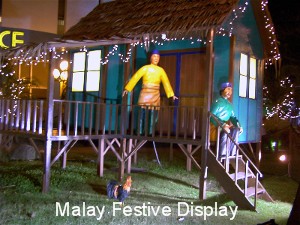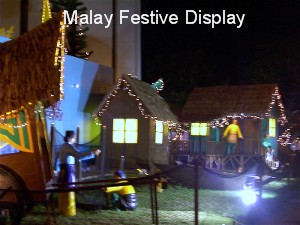 Here I am with my last report from this island republic. It has been a hectic 9 days to date, and no, I am not done with shopping. I will be on the prowl tomorrow for a digital camera for my darling MOTH and also to have a farewell drink with my favorite jeweller. Afterwards I will be heading off for a birthday/farewell feast somewhere with my Singapore family.

In the matter of finding my way around, I have improved to the stage where I can actually get to where I'd like to go by just chatting up two or perhaps three total strangers at the most. For those who know me, this is no mean feat and certainly an improvement I am very proud of. I told myself, "In the very worst case, keep calm, don't panic and catch a cab." Yeah, right! May work for others... but not for me. I felt like stupidity personified when I hailed a cab, jumped in, sang out my destination in a confident voice (so I wouldn't get taken for a ride), got driven halfway round the block and told that my destination had been reached! Sheeesh! I had thought it a trifle strange that they had put two McDonalds so close together, back to back, so to speak, on the same block... Certainly didn't 'ping' that it was the same "Macca's" I had walked by twice in my vain attempt to get to my destination. Almost invested in a GPS to help me find my way around...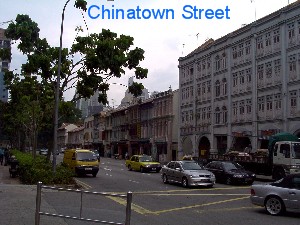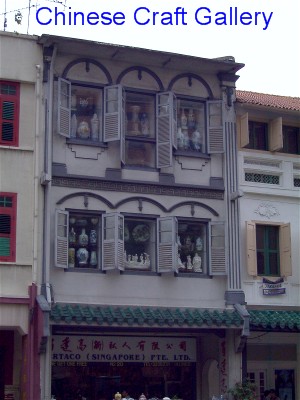 What with walking around the shops and walking around haphazardly in often vain attempts to get to where I would like to go, I must have walked the equivalent distance between Melbourne and Perth! I swear I will be walking in my sleep for nights afterwards, after I get home on Tuesday night. Luckily, I won't have to find my way to the airport on my own as my brother will be seeing me off. Personally, I suspect that he just wants to make bloody sure that I get on the plane and not re-appear at his doorstep within the hour or so. I am definitely not looking forward to saying farewell to my family here and will be armed with a box of tissues (I think my brother will be bringing along a bucket and mop) for the tears that I know will be flowing freely when Tuesday morning comes around. As a matter of fact, I may have an early start and commence bawling tomorrow night... However, I am looking forward to the cooler Australian climate and the waiting arms of my dear MOTH at the airport... I hope. All in all, I have had a marvelous time here in Singapore, swollen legs, ankles and feet, perpetually full belly and empty pockets notwithstanding...

FAREWELL FROM SINGAPORE...

...BACK IN MELBOURNE...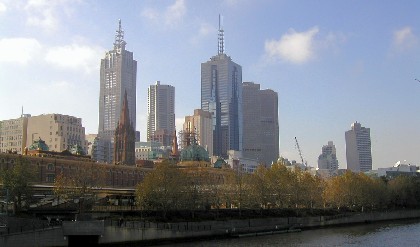 WED NOV 21 - Home Again!

Re-capping the last couple of days--- Monday was spent doing last minute shopping, eating, yakking, celebrating my birthday and packing my bags to fly back to Melbourne. With more last minute late night eating and no sleep, I wasn't too bright-eyed as I made it to Singapore's Changi International Airport yesterday morning where I was slapped with a S$180 (approx. US$100) excess baggage penalty!!! I contemplated setting up a mini garage sale right outside the door of the terminal to sell some of my goods but didn't think there would be a great demand for my unlaundered personal clothing and well-worn shoes! Oh well, such is life...

After a tearful farewell to my Singapore family,


I made my way in to claim some GST refund while my brother got busy with mop and bucket, cleaning up our puddles of tears off the terminal floor. I got my refund (about US$50) and what did I do? I headed off to the duty-free shop and promptly gave the money away. Imagine my delight when they gave me a bottle of cologne of my choice to bring home!



I saw a mini-busload of familiar faces pulling up just as I was heading off for the departure gate. Ha! The contingent of Orchard Rd and Changi Village shopkeepers were a tad late for my farewell ceremony after all!!! Oh well, better luck next time.

Enjoyed a great lunch during the flight before I settled in for 40 winks which were intermittently broken by snacks and drinks to break the monotony of sound sleep. Some 7 hours and 15 mins. later, the plane landed in Sydney, where I joined the queue of weary fellow travellers as we made our way to the transit lounge while the clean-up team attacked the cabin. After a short interval, we re-boarded the plane with more passengers added to the list - those who were on their way to Singapore and Bahrain, via Melbourne. At this stage, I was rested enough to start my imagination running riot - I began to have palpitations as I had visions of being led to a room to be interrogated and strip-searched because I was way, way over my limit of duty-free quota. My poor darling MOTH would be waiting in vain for my appearance at the arrival gate... Will I be given food and drinks? Perhaps I shouldn't have bought the laptop after all, nor the jewellery, the digital camera and all those watches... oh dear, will my MOTH bail me out? And my thoughts continued right until I went through customs. I saw a few passengers being randomly picked to have their luggage searched and that sure triggered my panic button no end, I kid you not. Thankfully, after a few well-chosen pointed questions, I was given the nod to go through. What a relief that was! With a big grin I wheeled my luggage trolley out, while eagerly searching the sea of faces for the familiar one of my dear MOTH. At the same time, I cast furtive glances over my shoulders, afraid that any minute the customs blokes would grab me for re-questioning!

All's well that ends well, with my MOTH recognizing and acknowledging me despite my new hairdo.

In conclusion, I had a fantabulous holiday but like they say, there is no place like home!



OzLadyM






Border: BoogieJack
Smilies: Smiliemania


Copyright © 2004 OzLadyM
Please do not use any material on this website without my permission. Thank you.