TOM YUM SOUP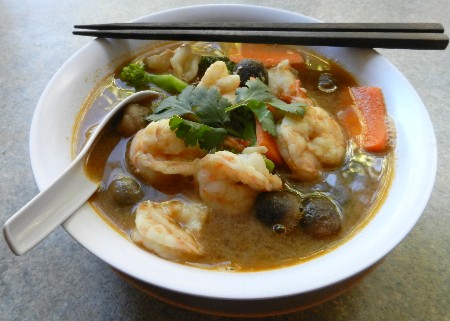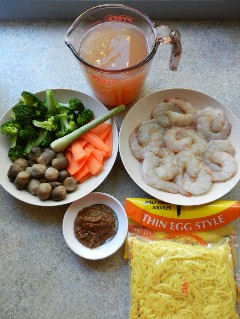 INGREDIENTS: (Serves 2)

12-14 green (raw) prawns), peeled & deveined.
(Save shells & heads for 500-600ml stock - optional) or 1 cup sliced chicken meat.
500-600ml stock from boiling prawn shells & heads or 500-600ml chicken stock.
1 x 250gm packet of fresh Chinese noodles of your choice.
1 cup broccoli pieces, blanched.
1 carrot, peeled and sliced thinly, blanched.
3/4 cup fresh (or canned) straw mushrooms (if canned, drain liquid).
1 stalk fresh lemon grass, bruised.
1 or 2 heaped tablespoonfuls Tom Yum paste, according to taste.
(Available in jars in Asian grocery store.)
A few sprigs of coriander leaves (cilantro) and lime slices for garnish.

METHOD:
Add bruised lemon grass and Tom Yum paste to stock and bring to the boil.

Add blanched broccoli, carrots, straw mushrooms and prawns (or chicken) to stock and bring to the boil.

Place fresh noodles in a strainer and scald in boiling water to warm up.

Drain well, divide noodles into two bowls and divide the ingredients accordingly.

Pour enough soup to cover the noodles and prawns (or chicken) and garnish with sprigs of cilantro and a slice of lime each.

Serve immediately.


Alternatively, follow recipe below for home-made Tom Yum Paste: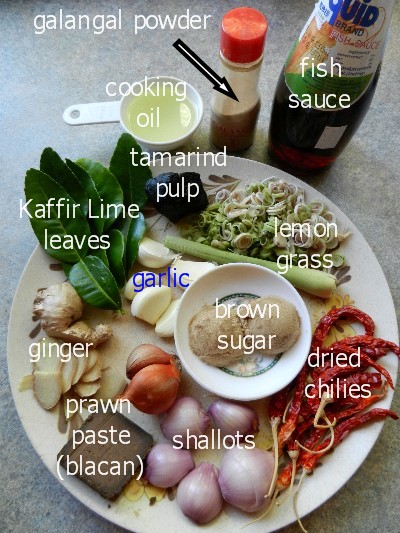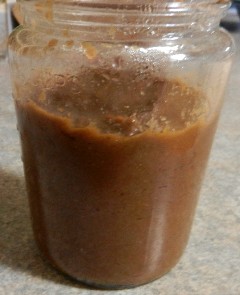 TOM YUM PASTE

INGREDIENTS: (Makes approx. 1 cup of paste)

15-25 dried red chilies, seeded, soaked to soften and drained. (Vary the amount according to personal taste.)
6-10 shallots (or 1 large onion) peeled and coarsely chopped.
5 cloves garlic, peeled and coarsely chopped.
3 inches fresh ginger root, scrape off skin and chopped coarsely (or 1 heaped tsp dry ginger powder).
2 inches fresh galangal root, scrape off skin and chopped coarsely (or 1 heaped tsp galangal powder).
2 stalks lemon grass, finely slice the thick lower stems.
5 Kaffir lime leaves, washed and torn from the centre stems.
20gms compressed shrimp paste (blacan).
Tamarind pulp the size of small lemon, soaked in hot water and squeezed to extract 1 cup of thick tamarind "juice".
2 tablespoons fish sauce.
2 tablespoon brown sugar.
3 tablespoons vegetable oil.

METHOD:

Blend together softened dried chilies, shallots, garlic, sliced lemon grass, ginger, galangal, shredded kaffir lime leaves and compressed prawn paste.

If using ginger and galangal in powder form, add to mixture after blending.

Heat oil in saucepan and fry blended spices, stirring to prevent burning.

Add fish sauce, tamarind juice and brown sugar, stir well.

Continue frying over medium-low heat, stirring occasionally (to prevent sticking and burning) until the sauce thickens and oil rises to the surface.

Allow to cool slightly and pour into a small jar, seal tightly and store in refrigerator for up to a week or store in freezer for a longer period.