SWEET AND SOUR PRAWNS (SHRIMPS)







INGREDIENTS: (Serves 8)

1 kg/2lbs medium green (raw) prawns, shelled and de-veined
2 egg whites
5 level tbsps cornflour
Pinch of salt and ground white pepper
Cooking oil for deep frying
1 large red capsicum - cut into bite-sized pieces
1 large green capsicum - cut into bite-sized pieces.
3 medium tomatoes - cut into wedges
100gms/4 ozs snowpeas - optional
4 small onions - peeled and cut into wedges
2 - 3 cloves garlic - peeled and finely minced
l large can pineapple pieces (or two small cans)
1 large can (565gms/20ozs) baby corn
1 can straw mushrooms (425gms/15ozs) - (optional)
1 small can (225gms/8ozs) bamboo shoots - (optional)

SAUCE:
Juice from pineapple pieces
Additional 1/2 cup natural pineapple juice (or orange juice)
1/2 cup white vinegar
1/2 cup sweet chilli sauce
1/2 cup tomato sauce/ketchup
1 tbsp Sriracha hot chili sauce
1 heaped tsp chicken stock powder
1/2 tsp salt
1 tsp finely grated fresh ginger or 1/2 tsp ginger powder
4 level tbsps cornflour - mixed till smooth with a little cold water




METHOD:

In a mixing bowl, lightly beat the egg-whites with a fork, add a little salt and white pepper and the 5 level tbsps cornflour and mix well.

Add the prawn meat, mix to coat well, cover and refrigerate for at least an hour.

In a large jug, pour in juice from canned pineapples, pineapple juice (or orange juice), vinegar, sweet chili sauce, tomato sauce, Sriracha hot chili sauce, chicken stock powder, salt and grated ginger (or ginger powder). Mix well and set aside.

Heat oil for deep frying in a wok over high heat and fry the prawns very quickly for a few seconds (as soon as prawns turn translucent, remove from hot oil) in 4 or 5 batches, allowing oil to heat up in between batches. This can be done earlier and set aside but do not refrigerate.

In a large saucepan, add about 2 tbsps cooking oil over high heat and fry the onions and garlic for about a minute.

Add capsicums and stir fry for about 2 mins.

Stir sauce mixture and add to saucepan.

Stir, bring to the boil, add remaining vegetables, stir well and cook for about 5 minutes.

Add prawns, stir well and continue cooking until prawns are heated through.

Stir the cornflour and water mixture until smooth, pour into saucepan and quickly stir to mix.

Continue stirring until sauce thickens and changes colour from cloudy to a clear glossy red.

Remove from heat and serve immediately with steamed rice.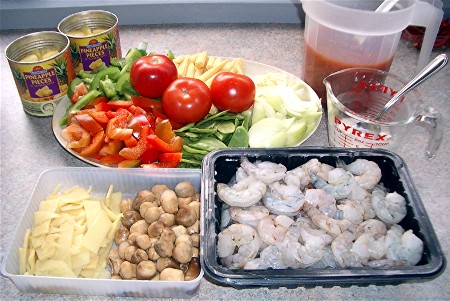 OzLadyM





"CENTER">


Copyright © 2004 OzLadyM
Please do not use any material on this website without my permission. Thank you.