CURRY PUFFS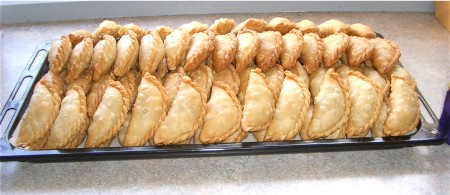 INGREDIENTS (Makes 4 dozen)

Filling:
700-800gms (1.5lbs) chicken breast meat, lamb or beef, finely diced
5-6 medium potatoes, peeled and finely diced into 1/2cm (1/4") cubes
4 large onions, finely chopped
4 cloves garlic, finely minced
2 heaped tablespoonfuls Keen's Traditional Curry powder or any meat curry powder
2 tablespoonfuls of finely chopped Chinese, English celery, parsley or cilantro (fresh coriander leaves)
1 cup milk or water
2 tablespoonfuls of cooking oil
1 heaped teaspoonful chicken stock powder (use beef stock powder if using beef)
Salt to taste

Pastry:

1.2kg (2.5lbs) plain flour, sifted
1.5 cups ghee (can be substituted with butter or margarine)
2 cups warm water with 1 teaspoon salt dissolved in it
Plenty of cooking oil for deep-frying


INSTRUCTIONS

Filling:

Heat oil in non-stick wok or frypan and fry garlic & half the onions.

Add potatoes and fry for a few minutes before sprinkling in curry powder.

Add meat, milk (or water), stock powder and a little salt, stir well.

Lower heat and simmer until curry is almost dr before adding remaining onions and celery.

Mix well, remove from heat and allow to cool.


Pastry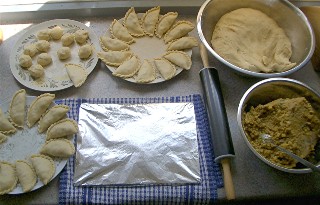 Melt ghee and pour small amounts over flour, mixing well after each addition.

Mix well (using 'rubbing in' method) until mixture resembles breadcrumbs.

Add salted warm water and knead well to form a pliable dough.

Divide dough into 48 even balls (a little smaller than golf ball size).

Roll each ball out into size of a saucer, place 1 rounded dsp. of filling in the centre.

Fold pastry to form semi-circle and press firmly to seal the pastry edge.

Flute by folding a little of the pastry edge and pinching slightly using index finger and thumb.

Deep-fry in hot oil in batches of 6 or 8 until crispy and golden.

Place on paper towels to absorb excess oil. Keep warm in oven until ready to serve.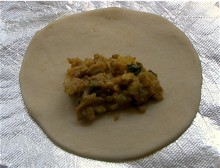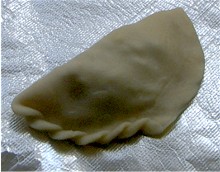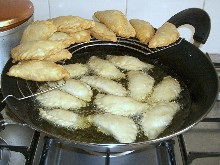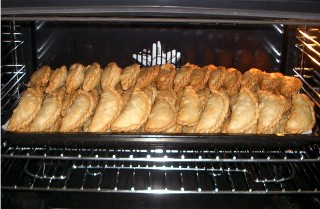 Keep warm in oven
Copyright © 2004 OzLadyM
Please do not use any material on this website without my permission. Thank you.