CRISPY CRUMBED BUTTERFLY PRAWNS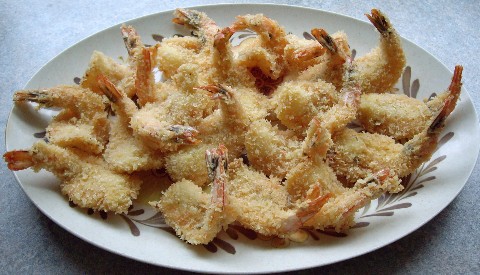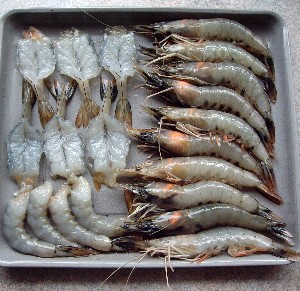 INGREDIENTS: (Serves: 2 Main or 4 Entree size)

20 large green prawns
1 egg
1/4 cup cornflour (cornstarch)
Approx. 1 cup Japanese panko breadcrumbs (regular breadcrumbs can be used instead)
3 - 4 dried curry leaves (crushed finely) - optional
1/4 tsp ground cumin
1/4 tsp ground white pepper or chilli powder (or to taste)
1/4 tsp garlic powder
1/4 tsp onion powder
Pinch of ginger powder - (optional)
Pinch of salt
Cooking oil for deep frying




METHOD:

Shell prawns, leaving tails intact.

With a sharp knife, cut each prawn from the top (rounded part) almost but not right through.

Remove the sand chute and gently flatten slightly.

Break egg into a small mixing bowl, add all ground spices and crushed curry leaves (if used) and beat with fork until well mixed.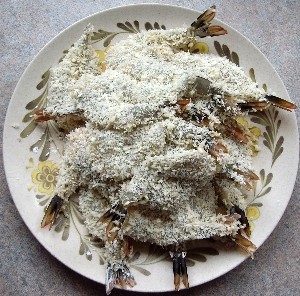 Place cornflour and panko breadcrumbs in separate shallow bowls.

Coat each prawn in the cornflour, dip in the egg mixture and coat well with panko breadcrumbs.

Place prepared prawns on a shallow tray or plate and refrigerate for at least 2 hours. [This 'setting' process helps stop the crumbs from falling off during frying.]

Heat oil in wok or fry-pan for deep frying.

When oil is hot, fry butterfly prawns a few at a time for a few minutes until golden brown. (Overcooked prawns end up dry and 'tough'.)

Drain on kitchen paper towels and serve hot with tartare sauce or lemon slices, as desired.



OzLadyM





"CENTER">


Copyright © 2006 OzLadyM
Please do not use any material on this website without my permission. Thank you.