EASY CHOCOLATE CAKE
& CHOCOLATE BUTTER ICING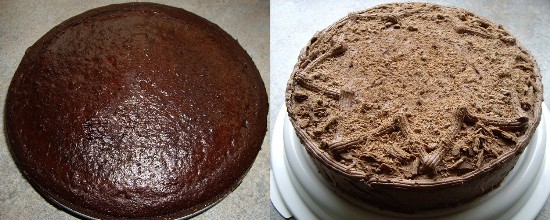 INGREDIENTS: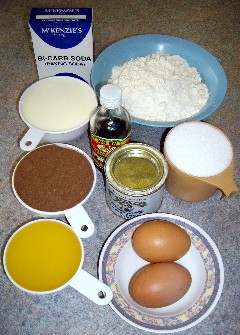 CAKE:


1 3/4 cups Plain Flour (unsifted)
1 cup Sugar (add extra 1/2 cup if you're not icing the cake)
3/4 cup Baking Cocoa
1 1/2 tsp Baking Powder (Phosphate Aerator)
1 1/2 tsp Baking Soda (Bi-Carb Soda / Sodium Bicarbonate)
1 tsp salt
1 cup milk
1/2 cup corn oil (or vegetable oil)
2 extra large eggs
1 1/2 tsp vanilla essence
1 cup boiling water

CHOCOLATE BUTTER ICING:

175gm (6oz) Icing Sugar, sifted
100gm (3.5oz) Butter (at room temperature) or Margarine
15gm (1/2oz) Cocoa
2 tbsp Boiling Water



METHOD:

CAKE:

Pre-heat oven to 180C (350F).

Line a round cake pan with baking paper.

Combine flour, sugar, cocoa, baking soda, baking powder and salt in an electric mixing bowl.

Add milk, oil, eggs and vanilla essence and beat at medium speed for 2 minutes.

Remove from mixer and stir in the boiling water. (Mixture will be runny.)

Pour into cake pan and bake for 35 - 40 mins or until cake is done. (Cake is done if a skewer stuck in the middle comes out clean.)

Remove from pan and cool completely on a wire cake rack.


CHOCOLATE BUTTER ICING:

Add boiling water to cocoa and mix into a paste, allow to cool.

Place butter or margarine in an electric mixing bowl and cream until softened.

Add icing sugar and beat on high speed until mixture becomes pale and light in texture.

Add the cooled cocoa paste and continue beating until well mixed.

Using a spatula, spread icing mixture evenly over the cake and decorate with chocolate sprinkles if desired.



N.B.
For the cake on the right of photo above, I baked two of the chocolate cakes, doubled the amount of the chocolate butter icing and did the following:

Cut off and discard the tops of both cakes and place the first cake on a serving tray.

Spread about a third of icing mixture on top of the first cake and gently invert the second cake (cut side down) onto the iced first cake, making one large double-layer cake.

Set aside about 1/3 cup of icing mixture if you wish to pipe a decorative pattern on cake.

Evenly spread the remaining icing mixture over the top and sides of the 'double-layer cake'.

Pipe a decorative pattern on the top (if desired) and decorate with broken pieces of Cadbury Flake™ chocolate bar.

This double layer cake serves 12 - 15.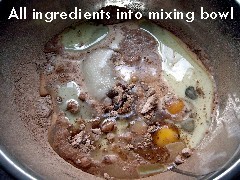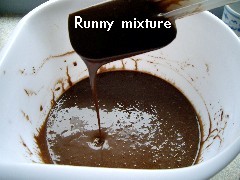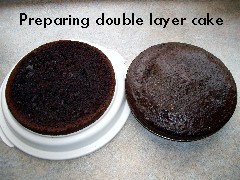 OzLadyM





"CENTER">


Copyright © 2007 OzLadyM
Please do not use any material on this website without my permission. Thank you.