CHEESE STRAWS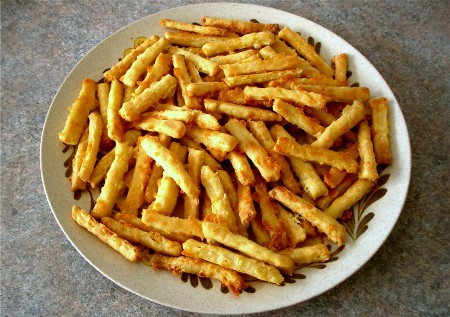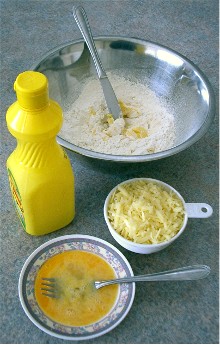 INGREDIENTS: (Makes approx 36-38 straws)

1 cups plain flour (150gms/5ozs)
1/4 tsp salt
1/8 tsp cayenne
1/4 tsp mustard
60gms/2oz butter or margarine
80gms/3ozs grated tasty cheese
1 small egg - beaten lightly with a fork
1/2 tsp lemon juice
1 tbsp iced water, if necessary




METHOD:

Pre-heat oven to 160C/320F.

Sift together: flour, salt, cayenne and mustard.

Cut butter into pieces into the sifted flour mixture.

Rub butter into flour, (using finger tips) until mixture resemble breadcrumbs.

Add cheese, and mix well.

Add beaten egg and lemon juice, mix into a stiff dough, adding the iced water if necessary.

Knead lightly and roll out to 5mm/1/4inch thickness on a lightly floured pastry sheet.

Cut pastry into 5mm/1/4inch strips, then into 6cm/2.5inch lengths.

Line baking tray with greaseproof paper and carefully place cheese straws on it.

Bake until slightly coloured (12-15 mins)

Allow to cool on tray and store in airtight containers.

Great as savoury nibbles anytime.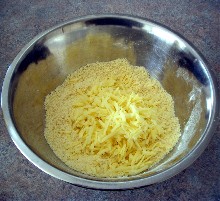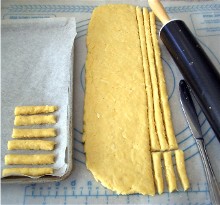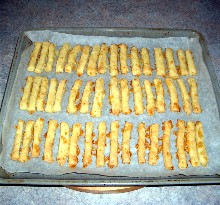 OzLadyM





"CENTER">


Copyright © 2004 OzLadyM
Please do not use any material on this website without my permission. Thank you.