CHEESE & CHIVES SCONES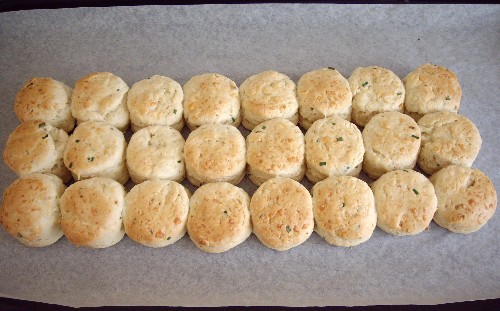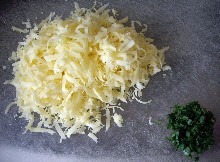 INGREDIENTS: (Makes 24 small or 18 medium)

500gm (18oz) self-raising flour
2 tsp baking powder
Pinch of cayenne pepper
120gm (4.5oz) butter (or substitute with margarine)
120gm grated tasty or cheddar cheese
1 heaped dsp French Onion Soup mix (powder)
1 heaped tbsp fresh chopped chives (I use garlic chives)
200ml (6.5 fl oz) milk
Extra milk for glazing




METHOD:

Preheat oven to 200C (400F).

Line a large baking tray with greaseproof paper.

Sift flour, baking powder and cayenne pepper together into a large mixing bowl OR into bowl of an electric mixer.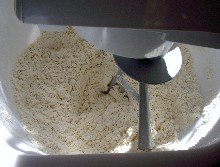 Cut butter into smaller pieces and rub into flour mixture until mixture resembles breadcrumbs.

OR (quick method)

Add butter to flour mixture in electric mixer bowl and mix on medium high until mixture resembles breadcrumbs.

Sprinkle French Onion Soup Mix over flour mixture and mix well.

Add grated cheese and chives and mix thoroughly.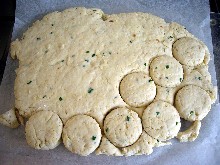 Add milk and mix quickly to form a pliable dough. (If dough is too dry, add a little iced water.)

Turn dough onto a lightly-floured board and roll out lightly (or pat with floured fingers) into a round (or * rectangular) shape about 2cm (1") thick.

Using a small (or medium) scone cutter, cut into rounds and place them close together on prepared baking tray. Lightly knead the "off-cuts" together, pat into 2cm thickness again and cut out more round scones.

OR (easier method)

Cut the * rectangular shaped dough into squares and place them close together on prepared baking tray.

Brush the tops of the scones with a little milk and bake for 12 - 15 mins.

Best served warm, split in half, with plain butter, herb butter or margarine.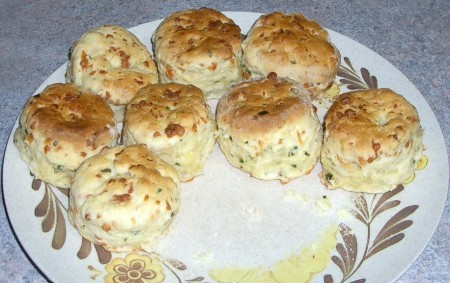 OzLadyM





"CENTER">


Copyright © 2007 OzLadyM
Please do not use any material on this website without my permission. Thank you.