CAMBODIAN FISH AMOK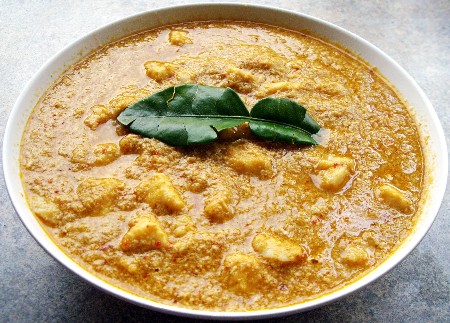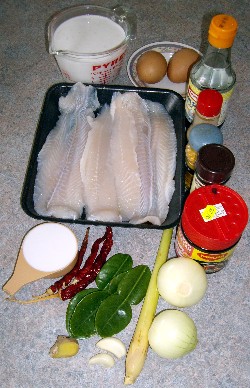 INGREDIENTS: (Serves 4)

500gm (1lb) firm white fish fillets
1 1/2 cups coconut milk
2 eggs, beaten
1/4 cup coconut cream
1/4 tsp ground galangal
1/4 tsp ground black pepper
1 dsp fish sauce
2 medium onions, peeled and quartered
2 cloves garlic
3 - 6 dried red chillies, soaked in hot water until softened, drain
1 stalk fresh lemon grass, washed and sliced thinly
3 kaffir lime leaves, washed and deveined
1 cm (1/2") fresh ginger or 1/4 tsp ground ginger
1 tsp granulated blacan (granulated shrimp paste)
1/4 tsp ground turmeric
1/4 tsp paprika
1 tsp brown sugar
2 tbsp cooking oil
Salt to taste



METHOD:


Cut fish into 1cm (1/2") cubes.

Pour 1/4 cup coconut cream into a mixing bowl, add ground galangal, fish sauce, ground black pepper and beaten eggs, mix well.

Add cubed fish, mix well and marinate for about 30-40 minutes.

Blend together the onions, garlic, lemon grass, ginger, softened red chillies, kaffir lime leaves and blacan to a fine smooth paste.

Add ground turmeric and paprika to blended paste, mix well.

When ready to cook, heat oil in a medium-sized non-stick saucepan and stir-fry blended ingredients until fragrant (about 1 - 2 minutes).

Add coconut milk, stir well and bring to the boil, add brown sugar.

Add marinated fish mixture and stir gently until well combined.

Continue cooking until fish is cooked, add salt to taste and remove from heat.

Serve hot with steamed rice.