BEEF LOK LAK (CAMBODIAN)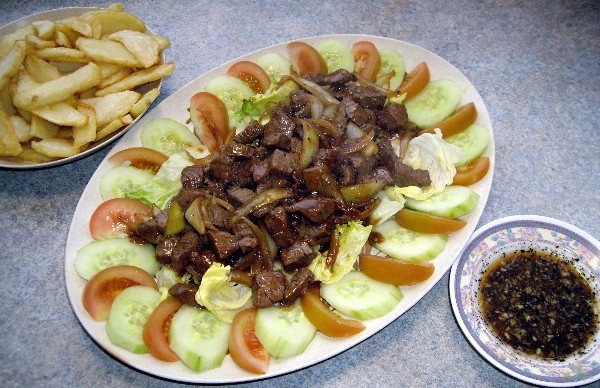 INGREDIENTS: (Serves 2-3)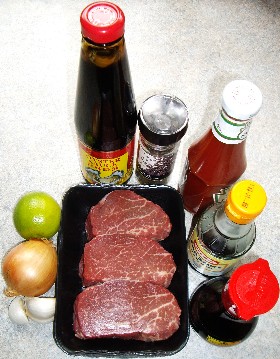 300gm eye fillet steak cut into 15cm (½") cubes
1 medium onion, peeled and cut into wedges

For the marinade:
2 tbsp light soy sauce
2 tbsp fish sauce
2 tbsp oyster sauce
1 generous tbsp tomato sauce (tomato ketchup)
1 tbsp cooking oil (+ extra 1 tbsp for frying meat)
2 cloves garlic, peeled and crushed
1 tsp freshly ground black pepper (preferably Kampot pepper)
½ tsp sugar

For Pepper Lime Dipping Sauce:
Juice of half a small fresh lime
1 clove garlic, peeled and crushed
1 tsp (or to taste) freshly ground black pepper (preferably Kampot pepper)
¼ tsp sugar
¼ tsp salt

For Garnishing:
A few lettuce leaves, washed and torn into pieces
1 tomato (preferably half-ripe), washed and cut into wedges
Slices of cucumber



METHOD:


Place soy sauce, fish sauce, oyster sauce, tomato sauce, 1 tbsp cooking oil, crushed garlic, ground black pepper and sugar in a mixing bowl and mix well.

Add cubed beef pieces, mix well to coat and allow to marinate for an hour.

Mix all the dipping sauce ingredients together and pour into a small saucer.

Arrange garnish on a serving plate.

When ready to cook, heat 1 tbsp oil in a wok over high heat.

Add onion wedges, stir-fry briefly and add marinated beef cubes, including the marinade.

[Add a little water (2 tbsp) if you would like a bit of sauce/gravy.]

Stir-fry for 5-8 minutes or until meat is cooked to your liking.

Remove from heat and transfer to serving plate.

Serve hot with steamed rice, baguette or hot potato chips (fries) accompanied by the pepper lime dipping sauce for the beef.