QUICK BAKED CURRY PUFFS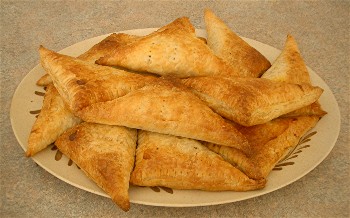 INGREDIENTS (Makes 16)

Filling:

1 full chicken breast fillet or 2 thigh fillets (skin & fat removed) - finely diced OR about 1 1/2 cups of finely diced lamb or ground beef
2 large potatoes - peeled and diced into small cubes.
2 large onions - peeled and diced
1 clove garlic - finely minced (optional)
1 level dessertspoonful meat curry powder
A few sprigs Chinese celery or parsley - finely chopped (optional)
1 teaspoon chicken stock powder (or beef stock if using ground beef)
2 teaspoonfuls lemon juice
1 dessertspoonful cooking oil
1/4 cup milk

Pastry:

4 square sheets of frozen puff pastry or unsweetened short crust pastry - thawed to room temperature - cut each into quarters
A little milk


INSTRUCTIONS

Filling:

Heat oil in a wok or saucepan and fry half the onions and garlic for a couple of minutes.

Add meat and diced potatoes and fry for a further few minutes before sprinkling in curry powder.

Add milk, lemon juice, stock powder and a little salt, stir well.

Bring to the boil once and stir well.

Lower heat and simmer until curry is almost dry (stirring occasionally to prevent sticking and burning).

Add remaining onions and celery or parsley.

Mix well, remove from heat and allow to cool.


Preparation:

Preheat oven to 200C (390F)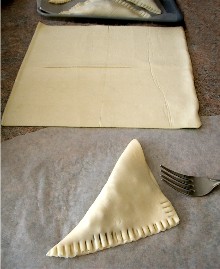 Place a generous dessertspoonful of filling across each little square.

Fold pastry over to form a triangle.

Dampen half the edge of pastry with a little milk and seal by pressing evenly with the tines of a fork.

Prick the top of each triangle in about 3 places, to allow steam to escape during baking or the filling will ooze out.

Place on baking trays, brush the top of each triangle with a little milk if desired.

Bake in hot oven until golden brown (approx 10-15 mins)



NB: Any leftover filling is great in jaffles or re-heated and served on toast.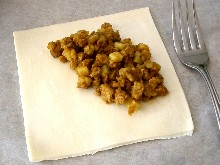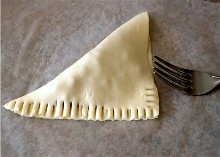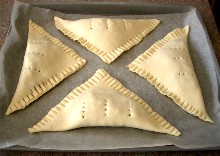 Copyright © 2004 OzLadyM
Please do not use any material on this website without my permission. Thank you.