PRAWN CHOW MEIN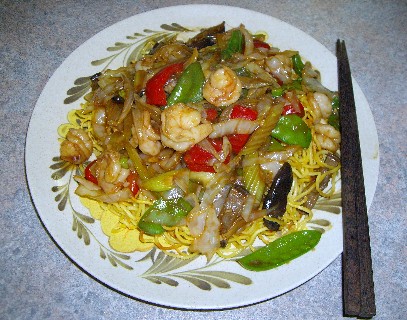 INGREDIENTS: (Serves 3 hungry adults)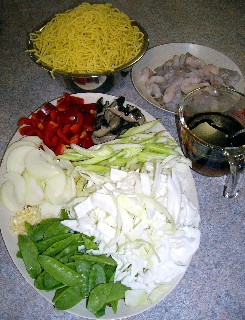 300gm fresh green (raw) prawns
375gm packet Chow Mein Noodles
1 medium onion
1 clove garlic
1 stick celery
1 small red capsicum (bell pepper)
200gm cabbage
100gm snow peas
8 - 10 shitake mushrooms
1 tsp chicken stock powder dissolved in 1/4 cup warm water
Vegetable oil

SAUCE:
1 generous tbsp oyster sauce
1 dsp mushroom soy sauce (or light soy sauce)
1 rounded dsp cornflour (cornstarch)
1/2 cup water
Ground white pepper to taste




METHOD:

Place chow mein noodles in salted boiling water for about 1 minute, drain and immediately plunge noodles into cold water to stop the cooking process. Drain well and set aside.

Peel and de-vein prawns, set aside.

Peel and slice onion into wedges, peel and mince garlic.

Wash and slice celery diagonally into desired thickness.

Wash, remove stalk and seeds from capsicum and slice into long strips of desired thickness.

Slice cabbage into 1cm (approx 1/2") strips.

Top and tail snow peas and cut into two at a diagonal if too big.

Slice each mushroom into four lengthwise.

Add all the sauce ingredients into a small bowl and mix thoroughly, set aside.


[AS WITH MOST CHINESE DISHES, THIS DISH IS BEST WHEN COOKED IMMEDIATELY BEFORE SERVING.]

When ready to cook, heat approx 2 tbsp cooking oil in a non-stick wok (or frypan) on high heat.

Divide noodles into 3 portions, fry each portion in the hot oil until golden, remove and place on individual dinner plates.

Add 2 tbsp cooking oil and briefly stir-fry the onions and garlic.

Add celery, capsicum, cabbage, snow peas, shitake mushrooms and the dissolved chicken stock and continue stir-frying until vegetables are cooked to your liking, adding a little water if necessary.

Add the prawns to the vegetables, stir to combine.

Re-stir sauce mixture thoroughly and pour over the combined prawns and vegetables.

Continue to stir-fry until sauce thickens - do not over-cook the prawns.

Remove from heat, divide mixture into three and place a portion each on top of the three individual serves of fried noodles. Serve immediately.


[N.B. You can disregard frying the noodles if soft noodles is preferred.]

I have also tried substituting chow mein noodles with 2-minute instant noodles cooked as directed on the packet (without adding the sachet of seasoning) and drained. Quick and delicious!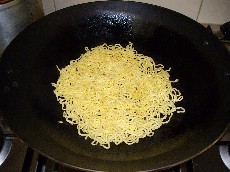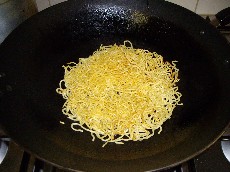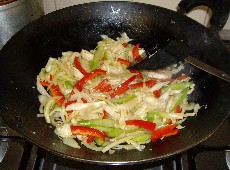 OzLadyM





"CENTER">


Copyright © 2007 OzLadyM
Please do not use any material on this website without my permission. Thank you.