CRAB CAKES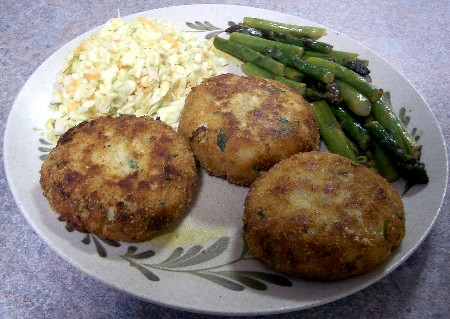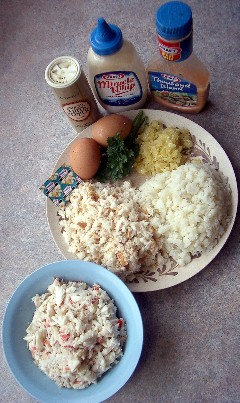 INGREDIENTS: (Makes 6)

250gms/9ozs crab meat (preferably fresh, canned ok)
2 medium potatoes (250gms)
2 slices bread, torn into small pieces
2 large eggs, lightly beaten with fork
2 sprigs fresh parsley, chopped
1 small onion, diced finely
1 tbsp butter or margarine
1 tbsp mayonnaise
1 tbsp Thousand Island dressing
1 dsp tartare sauce (optional)
1/2 tsp ground pepper
1/2 tsp chilli powder (optional)
Salt to taste
1 cup dry breadcrumbs
Cooking oil for frying




METHOD:

Peel and boil potatoes in salted water, mash coarsely with fork and allow to cool.

Melt butter in a small saucepan and fry diced onions until softened, allow to cool.

In medium mixing bowl, add beaten eggs, fried onions, mayonnaise, Thousand Island dressing, tartare sauce, ground pepper, chilli powder, chopped parsley and salt to taste.

Mix well, add fresh bread pieces and mashed potatoes and mix until combined.

Add crab meat and fold gently until well combined.

Place dry breadcrumbs into a shallow bowl.

Divide crab mixture into 6 portions and shape each portion into a 2cm (3/4") thick round patty.

Coat each patty generously with the dry breadcrumbs and place on a tray or plate.

Refrigerate for a few hours, preferably overnight.

Heat enough oil for shallow frying in a medium non-stick frypan (over medium heat).

Fry crab cakes until golden brown on one side, gently turn over and cook the other side.

Drain on paper towels and serve hot either as entree or main meal (with coleslaw, chips (fries) or vegetables of choice).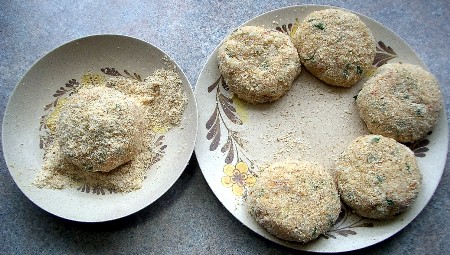 OzLadyM





"CENTER">


Copyright © 2006 OzLadyM
Please do not use any material on this website without my permission. Thank you.